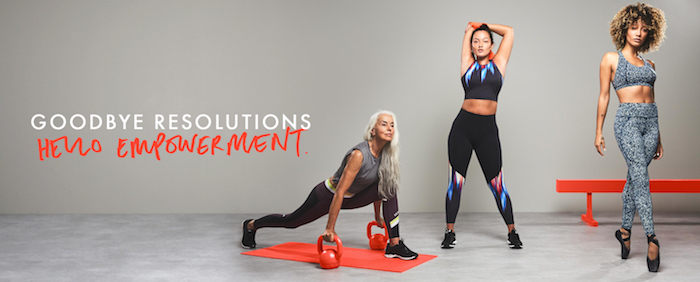 Studio Blvd has launched the Goodbye Resolutions: Hello Empowerment campaign for British activewear label Sweaty Betty. The campaign challenges the conventions and pressures of new year's resolutions and instead inspires women to feel empowered
The campaign which launched in January is set to continue with different empowerment mantras through February and March and features three influencers from diverse and compelling backgrounds: Mia Kang, Muay Thai fighter and body positivity campaigner; Yazemeenah Rossi, yogi, photographer and grandmother; and Sophie Apollonia, dancer, choreographer and Londoner.
The campaign celebrates the 3 inspiring women who come from different backgrounds, are different ages and have had different life experiences, but rather than focus on their differences, it's what they have in common as 3 empowered women that shines through. On SweatyBetty.com each woman tells their story, including their personal journeys, life mantras and advice for their younger selves.
Alistair Green, CSO, Studio Blvd, says: "The new campaign we created for Sweaty Betty places the brand within the cultural conversation about female empowerment. As a brand that has been championing women for 20 years and was founded by women for women, Sweaty Betty is more than an athleisure pioneer, it is a brand that deserves to be part of the female empowerment story."
Tamara Hill-Norton, founder and creative director, Sweaty Betty, says: "To me an empowered woman is someone with confidence and inner strength. She doesn't need resolutions, isn't afraid to talk about her flaws and is proud of her personal journey."
Callum Walker, creative director, Studio Blvd, added: "With this campaign we celebrate our Sweaty Betty squad of inspiring women, their unique passions, abilities in their respective fields as well as their unique characteristics. Utilising the Sweaty Betty brand personality this campaign celebrates the fun as well as the dedication, motivating women to encourage, learn from and inspire each other."
Sweaty Betty celebrated its twentieth anniversary last year and the new campaign coincides with the launch of the brand's new manifesto, The Rules We are Living By For 2019 And Beyond. It runs from January across digital, social, online and in-store with the corresponding hashtag #iamasweatybetty and 'shop the look' functionality.