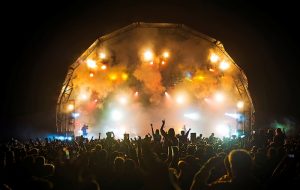 Symphotech has collaborated with Blue Multimedia Ltd to provide concerts with two innovative and cost effective signing solutions to aid the deaf and hearing impaired, in a bid to ensure both inclusivity and compliance with disability access legislation. 
Event health and safety company, Symphotech, is offering two forms of assistive technologies to ensure events are compliant with the equalities Act 2010. The first method involves using an Autocue operator and a downstream keyer to overlay live text onto the IMAG screens for the song lyrics. The second method uses a live signing presenter, who is situated off-stage in front of a green screen and their live signing is 'floated' over the live show and placed into the corner of the IMAG video screens. This option provides the presenter with a live feed of the performance and lyrics sheets to enable them to be reactive throughout the show. After consulting with contacts within the disabled support community, the team has identified that this live signing method is the preferred option.
Symphotech's Will Hodgson comments: "At Symphotech, we're committed to ensuring everyone can attend safe and inclusive events. It's vital that organisers take measures to ensure all attendees are offered the best possible experience, whilst making certain their events are compliant with the disability access legislation. We're proud to offer these services to help ensure everyone is able to enjoy the pleasure of live music under the guidance of the 2010 Equality Act."
Under the Equality Act 2010, organisations who are supplying a service to the public are required to undertake any reasonable adjustments to make certain that the experience of a disabled person is as close as possible to someone without a disability.
Steve Hill from Blue Multimedia comments: "As a long time supplier to Symphotech we are delighted to be able to cooperate on an accessibility solution for the hearing impaired. This solution integrates into the existing IMAG infrastructure whilst minimising the impact on often crowded and complex stage setups. As opposed to simply placing a sign translator side of stage, the method allows for the inclusion of an assistive image to be placed on the screens, including those in hospitality, VIP areas and in some venues, where people have no clear line of sight to the stage."