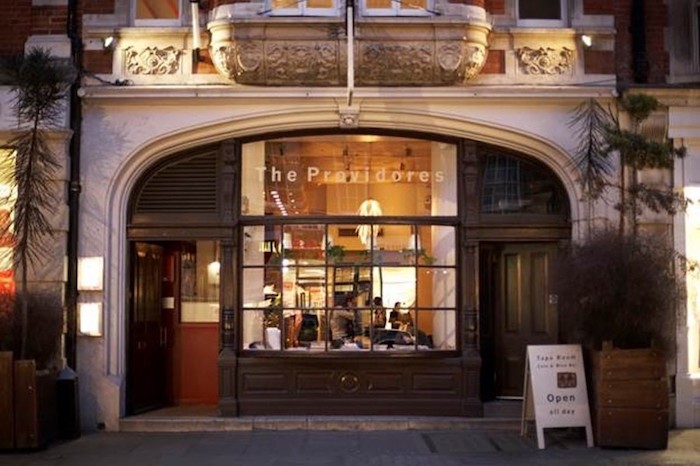 The Providores, the  restaurant in Marylebone that closed in July, has announced that it will be replaced by Mayfair-based Japanese eatery, Taka. Shelley Sandzer, the leading specialist UK leisure property agency, acted on behalf of The Providores in securing the lease assignment.
The 2,500 sq ft, three-floor site at 109 Marylebone High Street will be taken by high-end Japanese restaurant Taka, as it opens only its second restaurant in the UK. The brand was carefully selected by Shelley Sandzer and the team at The Providores to acquire the site, who wanted to ensure the next occupant would suit this vibrant and affluent central London location for years to come.
Since opening its doors in 2001, The Providores brought Antipodean-style food and drink to the UK, and was a pioneer in elements of brunch culture – including the flat white, small plates, and no reservations – that now form a mainstream of the London dining scene. Owned and run by acclaimed Chef Peter Gordon and General Manager Michael McGrath, the eatery closed its doors after 18 years as the restaurateur pair sought to travel and pursue other projects.
Peter Gordon and Michael McGrath commented: "Closing The Providores was an incredibly tough decision, but the right one for us personally. We've absolutely loved the last 18 years here; we were received so warmly by local diners and visitors alike, and were keen that whoever replaced us would suit the Marylebone clientele. Taka have the ideal offer for the area, and we thank Shelley Sandzer for helping us find the right brand to take over this special site."
Nick Weir, Partner at Shelley Sandzer, added: "The Providores is truly a part of Marylebone's dining history, having brought to London nearly 20 years ago so many of the things we now take for granted in modern restaurants. Replacing this culinary institution was a big task, but we believe that in Taka we have found the right brand to take this much-loved space, and one that will continue the success of its predecessor."
Shelley Sandzer acted for The Providores.