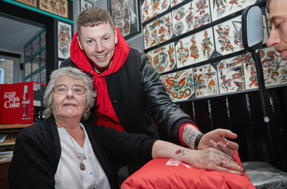 The Coca-Cola Tattoo Studio opened its doors to the public on February 6th offering free tattoos to the over 70s with tattoo-lover Professor Green and his Nan on hand to greet the first guests.
The move celebrates the brands new Coca-Cola Zero Sugar advertising campaign which sees a 70-something Mr Hadley 'break free' to take on a range of daring experiences after deciding to try something new. What follows is a series of fulfilled life dreams: telling his long-lost love Alice he's always loved her, getting a tattoo, diving into an Olympic size pool, riding down the highway on a motorcycle, enjoying the party at a Pride Parade, then finally crowd-surfing his way through a festival crowd. The spot features Queen's smash hit 'I Want To Break Free' as soundtrack. The original advert first ran in 2006 and has been repurposed and filmed using the same lead actor from over ten years ago, British-born American Actor Nicolas Coster.
The Shoreditch pop-up comes after research ranked 'getting a tattoo' as the No.7 choice of bucket list experiences of the over 70s.
The Coca-Cola Tattoo Studio opened to the public from 11-7pm on Tuesday 6th  February offering Septuagenarians and above the opportunity to claim their free inking (or temporary transfer for the more cautious) courtesy of some of London's leading artists.
Professor Green commented: "I can't say that I ever imagined being in a tattoo parlour with my nan and her being the one getting inked, even if it is a temporary tattoo. She has always been fearless and a complete legend in my eyes.  Getting a tattoo has been on her bucket list for a while so thanks to the Coca-Cola Tattoo Studio for making one of her wishes a reality today."
Aedamar Howlett, marketing director for Coca-Cola Great Britain adds: "Our new light-hearted ad is designed to remind those who haven't yet tried the taste of new Coca-Cola Zero Sugar to give it a go. Mr Hadley goes to extreme lengths to try something new, so we thought that the Coca-Cola Tattoo Studio would be the perfect way to reflect that while also giving people the opportunity to tick something off their bucket list.  Not only are we offering free permanent tattoos but we've also got temporary ones and plenty of Coca-Cola Zero Sugar to go round for those keen to take a less daring approach to trying something new."