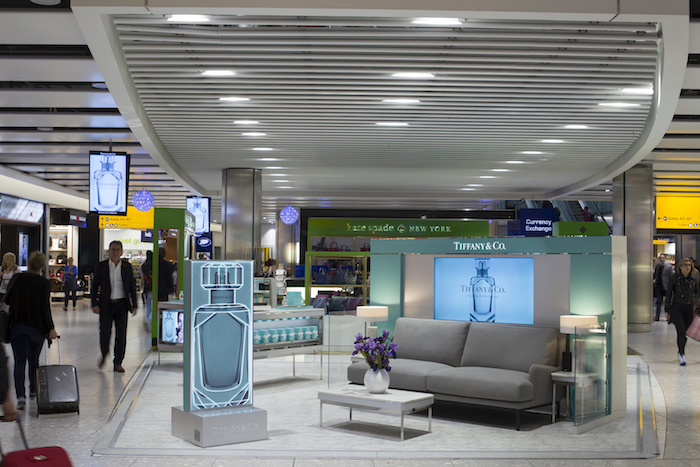 The elegant world of Tiffany has come to life with a unique experiential campaign in one of the busiest areas of Heathrow's Terminal 5.
The campaign marks the launch of Tiffany's new signature fragrance to the UK market, and will allow passengers to experience the new Tiffany perfume, crafted to reflect the diamonds for which the jeweller is famous.
The scent itself is described as 'elegant and light', with a bottle designed to reflect light and a cap showcasing a ring displaying the Tiffany & Co. hallmark.
The site is located in Terminal 5 Departures, home to a range of premium retailers.  The campaign aims to attract passengers actively seeking entertainment from high end brands such as Tiffany.
Passengers will be able to indulge their senses by testing the fragrance. The diamond inspired perfume bottle comes nestled in the famous Tiffany blue box and passengers will exclusively be able to have theirs engraved before it is then beautifully gift wrapped.
With over 3,400 fragrances available to buy at Heathrow Airport and £122 million spent on scent alone in 2016, the experiential stand provides a unique and effective way for Tiffany to cut through and ensure the brand is front of mind when passengers are considering their fragrance purchases.
Steve Cox, marketing director for JCDecaux Airport says: "An experiential site such as this provides the perfect platform to launch a new fragrance.  Tiffany has recreated the essence of their brand, and can both engage a highly receptive audience keen to spend on the product, and propagate their message far beyond the airport environment."
Tiffany's campaign was booked by JCDecaux OneWorld through JCDecaux Airport and will run for 1 month at Heathrow Terminal 5. The experiential campaign is supported by bookings across digital screens in Terminal 5, Terminal 2 and across the Digital Totems in T5 for a fully comprehensive launch.