The appointment of Russell Whitlock as MD announced in mid February by Phillips Direct has led to innovative new ideas.
The Company has a range of Quick Change Display Totems in a range of sizes from A4 to 1600mm. The range is designed to accept standard printed, paper insert sheets containing a promotional offer or message and hence, updating a message simply involves printing new sheets and inserting them.
Now the range of Quick Change Display Totems are available through two  new channels.
The Totem Postal Ser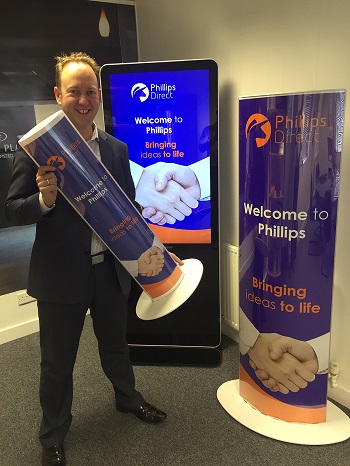 vice makes the Display Totems from A4 to 1600mm high, available to rent on a monthly basis. Phillips Direct  supply updated printed inserts, delivered on the next business day, as often as the customer needs them.
Totem Live allows customers to have full control of their point-of-sale advertising within minutes rather than days. The Totem Live web portal enables customers to control their content from their offices, with updated messages being transmitted to individual totems via the Internet.
Both of these innovations demonstrate a new direction for Phillips Direct, where modern technology, when combined with the manufacturing expertise at Phillips, is already leading to  innovative products and solutions.
"When I first joined Phillips Direct, I could immediately see the role modern technology could play in developing some of the already very effective products and I think these two Totem initiatives do offer customers something new and very different," said Russell.
"The initial reaction to Totem Live has been amazing with customers immediately appreciating the convenience of being able to change individual promotional messages at different branches or departments, whilst sitting at their desk."