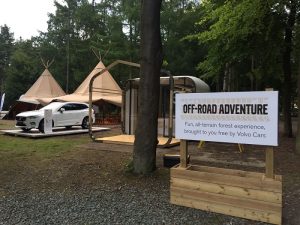 Volvo Car UK is to bring a Scandinavian sanctuary to some of the UK's busiest cities, offering locals a retreat from the stresses and strains of daily life.
Opening in Newcastle, Bristol, Norwich, Aberdeen and London in the coming weeks, the firm's 'Escape the City in your City' pop-up studio will offer a selection of relaxing and complimentary sessions, including yoga, Swedish massage and meditation. Experience agency TRO devised the campaign strategy and is also responsible for delivering the experiential activation.
The studio will appear this weekend on both Newcastle's popular Grainger Street and Bristol's Broadmead shopping district, with the last event taking place in London's Westfield shopping centre in Stratford from Friday 25 to Sunday 27 August.
Taking design cues from Scandinavian architecture to create a warm and intimate environment, the multifunctional space, designed by TRO, will also display Volvo's long-awaited new XC60 premium SUV. With a beautifully designed, clutter-free cabin featuring natural materials and a 9-inch touchscreen, the XC60 will provide a relaxing and welcoming space for all its occupants, wherever the car may be.
For those who want a more hands-on experience of the new XC60, Volvo is also offering customers across the country the opportunity to discover the adventurous spirit of the new Volvo XC60 at a number of local, family-friendly off-road test drive events between August and September. Events start this weekend, and will take place in Mansfield, Nottinghamshire; York; Belfast; Falkirk; Hexham; Cannock Chase, Staffordshire; and Exeter.
Jon Wakefield, managing director, Volvo Car UK, said: "As a human-centric company, we want to reinforce the importance of taking time out of our busy schedules. Much like the interior of the new Volvo XC60, our pop-up studio will provide people with a calm, relaxing space to escape the rigours of city life."
Nicky Morgan, client services director at TRO, added: "The long-awaited new XC60 is a significant model launch for the Volvo brand, and we're delighted to be activating an experience which has people at its very core. The car is for discovering new places, meeting new people and experiencing life to the full – in the city and beyond, and we are passionate about bringing the product to life with a rich and engaging experience for consumers across the nation."