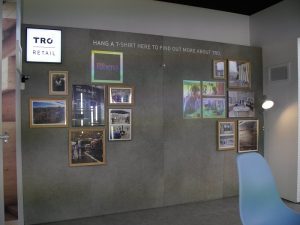 For the second year running TRO Retail has taken up residence at the Retail Design Expo – this time bringing the bespoke "TRO Boutique" to showcase a suite of creative technologies that are transforming modern retailing.
TRO Retail, a sub-division of TRO, was set-up 12 months ago with a mission to make the retail experience more entertaining, more immersive and more relevant to both brands and consumers at the crucial decision making point.  TRO Retail is showcasing several creative technologies at the Retail Design Expo including augmented reality, personalised virtual reality, RFID and Microsoft Kinect – allowing visitors to experience the benefits and features in a bespoke designed "boutique" environment.
Retail experience director Ben Taylor said: "TRO Retail has had a great first year delivering experiences at the point of purchase and we are delighted to be returning to the Retail Design Expo to showcase some new and emerging technologies. We see this as a fantastic opportunity to demonstrate how a great experience between brands and their consumers can truly revolutionise the bricks and mortar retail environment."
The "TRO Boutique" will include a Living Poster that transports the consumer into the picture in real time, an interactive T-shirt wall and a tea bar that will serve up a personalised tea bag depending on the mood you're in.