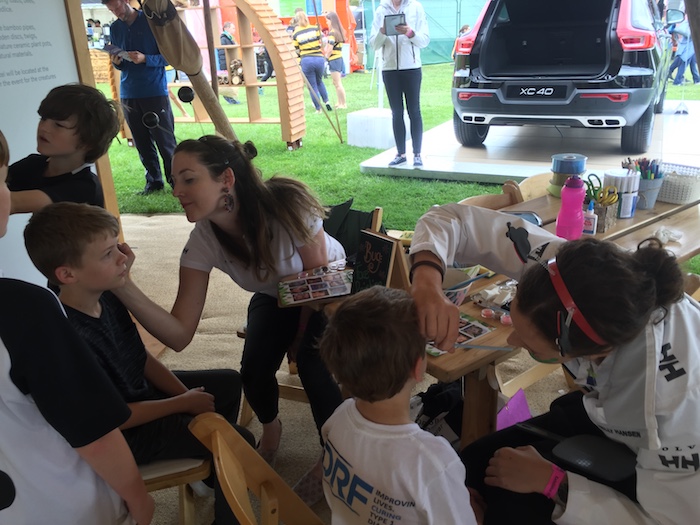 Leading experiential Agency, TRO brought Volvo's latest XC40 to life at the inaugural RunFestRun.
The RunFestRun event was held at picturesque Bowood House, from May 31st to June 2nd. It was a celebration of all things running related alongisde music curated by Brand Events alongside the festival expertise of presenter celebrity Chris Evans.  Guest speakers including Colin Jackson and Paula Radcliffe, lured a wide pool of running enthusiasts from the surrounding areas. Performances from musicians including Reef, Razorlight and Olly Murs ensured their remained a strong festival element to the event.
TRO had brought Volvo back to nature with an incredibly immersive family friendly brand experience. The Volvo stand had smiley, educated brand ambassadors signing people up for test drives and children working on various projects that celebrated Volvos commitment to a sustainable future.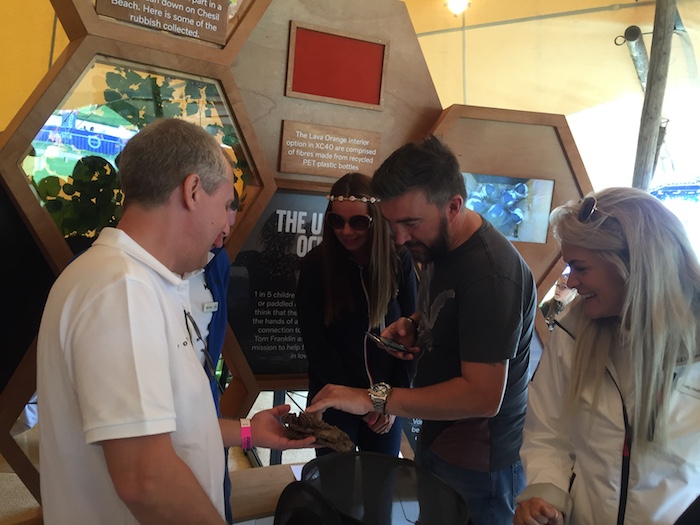 Activities included helping to build a bug hotel, bug face painting, creating bug antennae headbands for the Bug Hoedown Run on Sunday and a meet and greet with some larger than life creepy crawlies. When I arrived on the Friday afternoon, the construction of the bug hotel was well underway and looking very inviting for any mini beasts attending the festival. A creepy crawly expert and his gang of giant bugs were being introduced to the children and a tarantula and giant butterfly were being marvelled at.
In comparison to the booming compere and loud music blasting from the tent next door, the Volvo tepee acted as a safe haven for guests like me who had little interest in a 'cheeky 10k.'  The walls were adorned with facts about the model and Volvo's sustainability pledge, including details of Volvo's new book 'The day the ocean went away' in partnership with non-profit social enterprise, City Kids Surfing. To celebrate Volvos new sponsorship of British Triathlon, guests were put through their paces on the high tech sporting equipment and entered onto a leaderboard.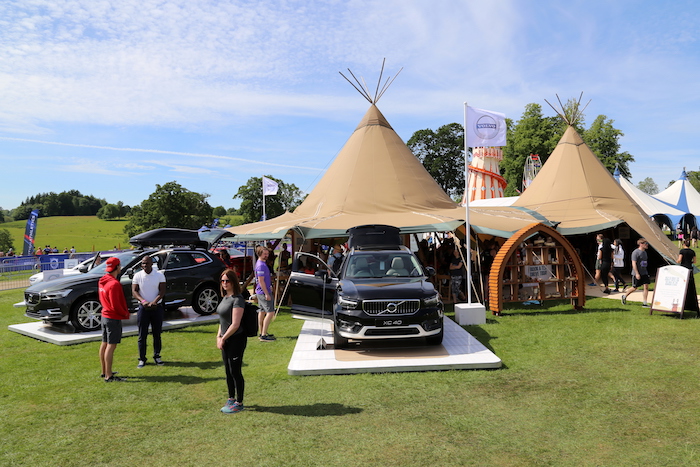 Guests wishing to sample the delights of the electric Volvo XC40 were ferried across the festival to a test drive route in a golf buggy, were they then took to the driving seat and made their way around an off-road  course.  A TRO driver took me on a few laps around the course while telling me the key features of the model.
The test drive was expertly delivered and immersive and the Bowood, West Country location, can reasonably be expected to generate interest and leads for Volvo following this event.
During the event, I caught up with team TRO to find out more about the objectives of the activation and the strong relationship they have with their partner.
Why has Volvo chosen to activate at Runfestrun?
The support for RunFestRun is perfectly aligned with Volvo's human-centred thinking and its desire to help people explore and enjoy active lifestyles and the great outdoors. The same spirit is also witnessed in Volvo's recently announced partnership as official vehicle supplier to British Triathlon, and its brand heritage of working with events and organisations that demonstrate a sense of adventure that embraces, respects and protects the world around us.
What other events can we expect to see you at over the summer?
Volvo will be activating at a number of Triathlon events including Leeds, Nottingham and Canary Wharf, as well as automotive sponsor at Big Feastival.
How has the partnership between TRO and Volvo evolved over the years?
We're hugely proud of the fact that Volvo is one of our longest standing clients and we have been able to grow and evolve with them. Over the years we have activated thousands of events for the brand at both retailer and national led activity.
Why is experiential marketing so important for Volvo?
When it comes to purchase consideration, Volvo need to engage their audience and interact with them in non-traditional and more engaging ways, giving them an experience to remember. This is where live events are key for the brand.
The Volvo activation was expertly curated and the highlight of my visit to Runfestrun.