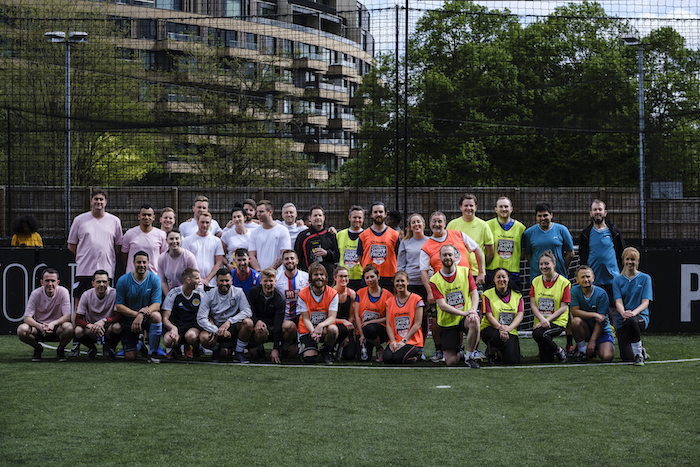 It was raining goals, oranges, and charitable donations on Friday as creative and production agency, Twelve, held a 5-a-side football tournament to mark Football Shirt Friday.
In London, Shepherd's Bush, teams were fielded by Communisis, Twelve, EE, Merlin, Cancer Research UK and Salt TV raising money for the Bobby Moore Fund.
Twelve recently produced a social media campaign for the Charity Day, which is held annually in April to raise money for the Bobby Moore Fund in partnership with Cancer Research UK. Celebs who featured in the Twelve work included Jeff Stelling, David Seaman and Jordan Nobbs. It was supported on Twitter by England captain, Harry Kane; ex-Professional striker, Chris Sutton; West Ham winger, Claire Rafferty and Sky Sports News host, Bianca Westwood.
On the day, Cancer Research UK proved their footie skills as well as their fundraising, walking away with the tournament trophy despite the bold move of swapping their oranges for low/no alcohol beers at half time.
Max Horwood, account manager at Cancer Research UK said, "The tournament was a fantastic example of 'giving a shirt about bowel cancer'. It was great to see so many teams from the marketing world come together, enjoy the football, and help raise funds for life-saving bowel cancer research."
Melissa VodegelMatzen, managing director at Twelve said, "It's such a great cause, we're really proud to put on this event and help raise funds and awareness for The Bobby Moore Fund."
Other prizes given out on the day included: Vicky Phimister, marketing manager, at Merlin for playing blind without her contact lenses, Nathan Odell, senior campaign manager at EE for great cheerleading, Natascha Davies, senior designer at Twelve for a slow-mo penalty save, Iain Whittaker from Cancer Research UK for playing with a mighty hangover, Roman  Lukyanov, business director at SaltTV for impressive goalkeeping, and finally to Ruth Granton-Egan, Learning and development advisor from Communisis, for almost scoring a goal in every game.