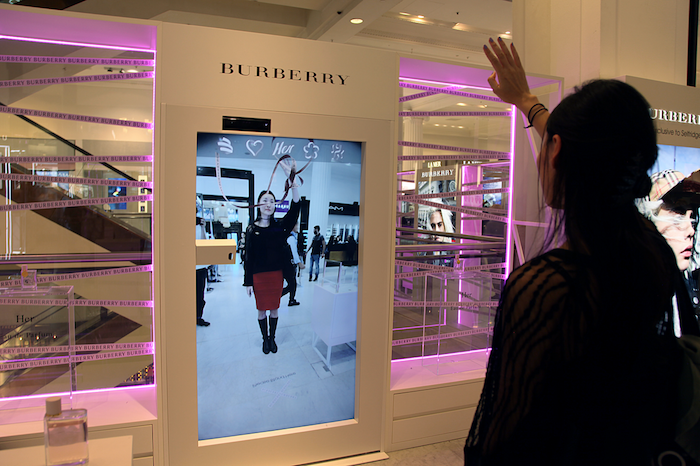 Burberry and global beauty company Coty have enlisted content experimenter Unit9 to amplify the fashion label's 'Her' fragrance and new identity through tech-led installations and applications for use across the brand's worldwide stores.
The first project is an AR Mirror where shoppers can see themselves interact, in real-time, with Burberry's iconic ribbon. Up to three people at a time can play around with the ribbon to make various shapes, compositions and frames. The installation debuts in London's Selfridges before going global in October. Using the same ribbon concept, Unit9 also created a Snap lens to let users accessorise their content with Burberry branding.
Unit9 has additionally developed a Glass Box- a touch-table that, although designed to look like a regular glass display cabinet, delights and surprises customers by coming to life when touched. Although all the technology is hidden away, the plinth uses a custom-made touch foil with a rear projected top surface so that it can be activated to reveal behind-the-scenes content from Burberry's recent 'Her' fragrance campaign featuring Cara Delevingne.