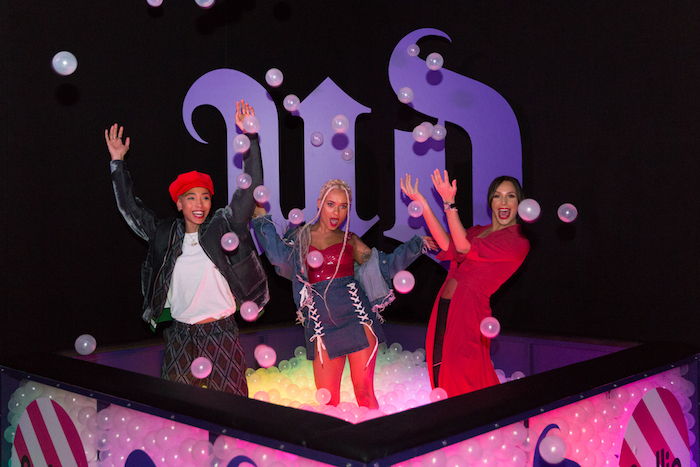 L'Oreal owned cosmetic brand welcomed the Instagram star to London with a series of fun and colourful events, inspired by Kristen herself.
Kristen Leanne is a beauty influencer , brand owner, and entrepreneur. Known for sharing Urban Decay's values of cruelty-free vegan beauty, Kristen Leanne's colourful collaboration with 'UD' includes Kaleidoscope Dream and Day Dream eyeshadow palettes and her Beauty Beam highlight palette.
Set at Shoreditch hotspot, the Curtain hotel, Urban Decay partnered with events agency Creative Styling and creative content agency The Flash Pack, to bring the launch party to life for Kristen Leanne and 200 fellow beauty blogger guests.
For the centrepiece of the launch party, the Flash Pack created a 120º camera rig, capturing 3D 'bullet time' photos using 30 cameras. Teaming up with East London's favourite ball pit bar, BallieBallerson, they produced a large, colourful LED-lit ball – inviting influencers to celebrate and pose for their 3D photos.
165 3D photos were captured, with the instantly shareable social content already amassing a reach of 130K and 190K impressions overnight.
The experience took place on 15th February 2018 in the Ballroom of the Curtain, London.
Tyson Benton, Co-Founder / Creative Director of The Flash Pack comments: "More than ever influencers need content capture opportunities that stand-out. This experience certainly achieved that and was a perfect representation of the playful, colourful collaboration between UD and Kristen Leanne. This was an incredibly fun project to be part of."