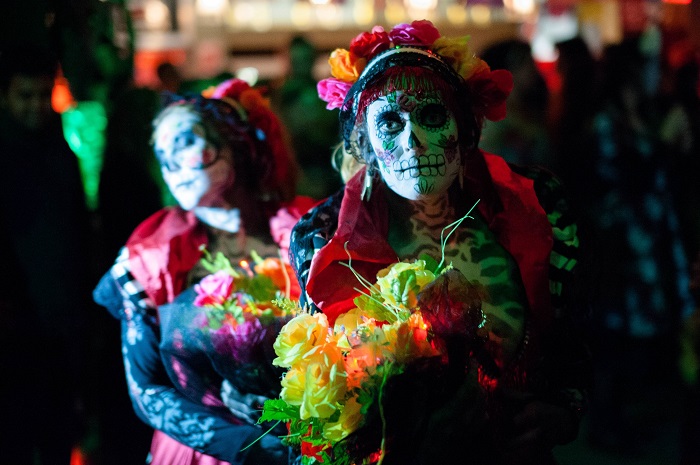 This November, Wahaca will host a three-day agave-fuelled fiesta in celebration of Mexico's Day of the Dead festival.
From Thursday 3rd to Saturday 5th November, The Vaults at London Waterloo will be transformed into a den of Mexican festivities with three nights of live music and live art, hedonistic performance, street food and tequila, showcasing the best of Modern Mexican culture and Mexican food, while a free-to-enter market outside will offer pre-fiesta treats for guests to explore before they head inside.
The Leake Street Tunnel market will kick off the celebrations on Thursday 3rd from 6pm. Both fiesta ticket holders and members of the public will be able to access the market, where they will be treated to street food from the likes of Patty & Bun, Bob's Lobster and Annie Mae's Mac & Cheese serving their signature dishes with a Mexican twist, as well as Mexican treats from Wahaca and DF/Mexico. Smaller street food traders will offer traditional treats of pan de muerto and hot chocolate. The market will be open until 10pm each day, encouraging visitors to get into the fiesta vibe with a face-painting station offering traditional Calavera skull designs, a dressing up area as well as wrestling and Mexican music.
From 8pm each evening, the Dia de Muertos procession of performers and dancers will lead guests from the market and through to The Vaults and the fiesta. Live music from electro-Mexican DJ's will set the scene for a Grave Rave in one corner, while around another turn, guests will be confronted with masked Mexican wrestlers performing on a live Lucha Libre stage. Paying homage to the festival's heritage, the Tunnel of Remembrance will celebrate the lives of David Bowie, Alan Rickman, Prince, and other celebrities that have passed away over the last year. Life-drawing, poetry and artwork will immerse guests in Mexican culture. Confirmed acts include Centravrvs, The Indios, Orkesta Mendoza, and Family Atlantica. Fuelling the dancing, mezcaleria and tequila bars across The Vaults will ensure the 100% artisan agave spirits are flowing, while the Wahaca and DF/Mexico stalls will serve up tacos, tortillas and other Mexican street food staples for those after further sustenance.
Wahaca Co-Founder Thomasina Miers and Mexican chef Santiago Lastra Rodriguez will host a set course dinner on each of the evenings from 6.30pm, with tickets including entry to the fiesta afterwards. The meal will combine the best of Mexican and Latin American cuisine, with Lastra showcasing the skills he has acquired working in kitchens across the world, notably in Mexico City and Copenhagen.