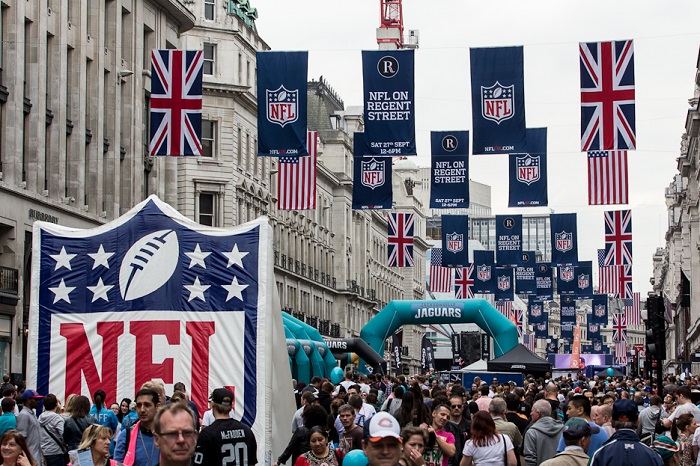 Wasserman's Experience division has been appointed by the NFL UK to lead its experiential activity in the UK for the next three years. The agency won the new contract following a competitive pitch.
The new remit will see Wasserman working together with the NFL to boost fan engagement through brand experiences not only for the London Games, but year-round.
This will be the eleventh year that the NFL has held live games in London, and Wasserman will be responsible for producing brand experiences for each of the NFL games staged in the city. For the first time the NFL will host four regular season games in the UK, this includes:
September 24th, Baltimore Ravens v. Jacksonville Jaguars at Wembley Stadium
October 1st, New Orleans Saints v. Miami Dolphins at Wembley Stadium
October 22nd, Arizona Cardinals v. LA Rams at Twickenham Stadium
October 29th, Minnesota Vikings v. Cleveland Browns at Twickenham Stadium
Last year, working with the NFL UK, Wasserman held tailgate parties at each stadium as well as the award winning 'NFL on Regent Street' event, where Regent Street is pedestrianised and becomes a huge NFL Fan festival. The brand experience attracted 600,000 fans last year, and featured interactive fan games, on-stage appearances by coaches and players of competing teams, interviews with NFL legends, food and drink, cheerleader performances and more.
Wasserman will also be responsible for activating brand experiences across the country in the form of regional activations. This includes the NFL UK Live, where Sky Sports' Neil Reynolds hosts live Q&A's with NFL legends, game insights and exclusive insider information. The last series of events visited London, Liverpool, Nottingham and Edinburgh in April.
The appointment means that by the end of the new contract, Wasserman's Experience division will have worked with the NFL in the UK for ten years.
Maria Gigante, vice president, events at NFL UK said: "The London Games have gone from strength to strength in the UK, from one fixture a year to four. We're delighted that Wasserman will remain a part of the London Games, and the wider, season-long fan engagement campaign, which will build on the huge interest and support across the country"
Paul Southby, senior project director at Wasserman said: "We have a long standing relationship with NFL UK, and we're absolutely honoured to continue working with them. Together we've held events across London, at iconic stadia and along historic streets. We're now visiting big cities across the UK, aimed at generating and boosting even more fan engagement with the sport. We're really excited for what lies ahead."