The St David's Partnership, the owner of St David's Cardiff, has announced the launch of three pop-ups for locally-based businesses, all opening in time for the Christmas trading period.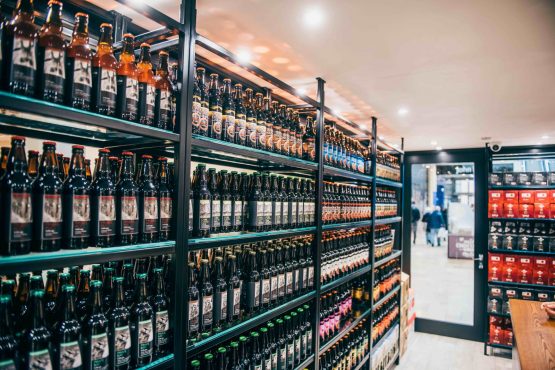 A trio of breweries, all hailing from South Wales, have come together to provide an enormous range of beers to St David's customers, from a single kiosk outside The White Company and Kurt Geiger. Cold Black Label encompasses traditional and contemporary beers across different styles; fresh from securing an official partnership with the Welsh Rugby Union, Brecon Brewing will provide their special IPA and Golden Ale at the St David's kiosk; whilst Lithic Brewing offer one of the UK's only completely gluten-free, craft beer ranges.
Sheffs is a merger of two South Wales food brands – Cymru Confectionery and Shelly's Shorties – bringing creative Welsh baking to St David's, from the new 714 sq ft store on the Lower Grand Arcade opposite Pandora. The shop will stock their freshly made shortbread, an array of flavoured fudge, and confectionery including chocolates and Turkish delight, with vegan options available.
The destination has also seen the opening of a local-led festive store, A Welsh Christmas. Located on Cathedral Walk near Marks & Spencer, the 1,557 sq ft shop has a wide selection of Welsh-made products, from jewellery, to stocking fillers, and bespoke decorations.
Speaking on behalf of the St David's Partnership, John Bloomer, National Kiosk Leasing Manager at Landsec, commented: "South Wales is home to many independent brands that are loved by the community, so we take great pleasure in supporting these businesses and providing retail space within St David's, alongside the biggest names in global retail. As we approach Christmas, these new regional entrants to St David's bring a range of local products to meet the demands of thoughtful giving over the festive season."
Buster Grant, Head Brewer at Cold Black Label, added: "As a local company we know St David's well, and are delighted to be here, with the festive period very much underway and shoppers able to return to stores. Our three breweries are proudly Welsh, and our official partnership with Welsh Rugby Union makes St David's a great spot to bring our local products to a huge market space, so close to the home of Welsh rugby."