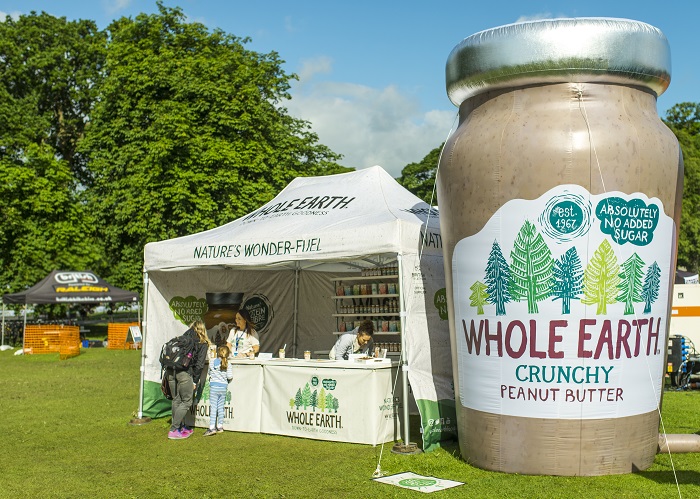 Whole Earth, the organic food brand from Wessanen UK, sponsored two sporting events during the second week of June,the Columbia Threadneedle World Triathlon in Leeds and Man V Horse in Powys, Wales.
Over 5,000 competitors at the Leeds Triathlon, both amateurs and elite – including many of Team GB's Rio Olympians and the Brownlee brothers who came 1st and 2nd – were given samples of Whole Earth's new Power Balls in the Event Village. The brand also provided samples of its market-leading peanut butter spread on rice cakes at a dedicated Whole Earth tent.
This past weekend also saw the brand sponsor the Man V Horse endurance race in Wales for the fourth consecutive year. The race pitted runners against 60 riders on horseback as they raced 23 miles over wild Welsh terrain.
Kirstie Hawkins, Whole Earth brand controller at Wessanen UK, comments: "Whole Earth was proud to be part of such fantastic sporting events. At both events, we championed the nutritional value of nut butter and directly reached out to our target audience. These were perfect brand platforms for us, as more and more athletes and fitness fans alike see Whole Earth peanut butter as the ideal source of natural protein to fuel their workouts."
This marked the first time that Whole Earth sponsored the Leeds Triathlon, which was televised on the BBC on Sunday 11th June, increasing the visibility of Whole Earth's branding to an audience of over 1.2m people. The brand is also the official nut butter supplier to the British Triathlon Federation.
The high-profile sponsorships form part of Whole Earth's wider sports sponsorship strategy to position its peanut butter as a natural source of protein and fibre to help fuel elite athletes, fitness fans, and those who follow an active lifestyle.