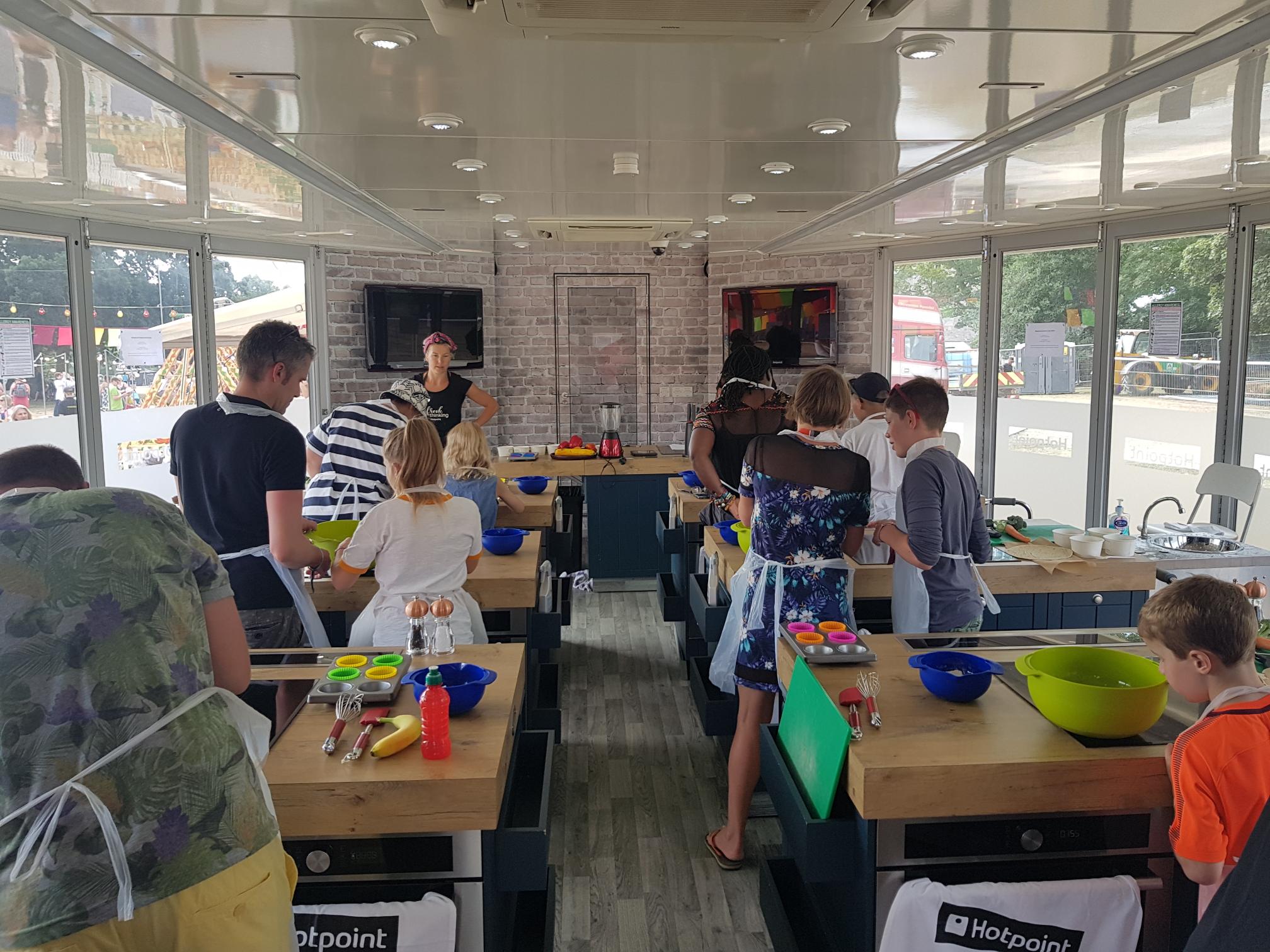 Hotpoint are teaming up with Jamie Oliver to challenge the nation to think differently about the Forgotten Food within their homes and are asking them to submit their own Forgotten Foodrecipe to Hotpoint to be in with a chance to win a place at the launch of the Fresh Thinking Pop Up Café with Jamie Oliverin October.
Winning recipes will also make up the tasting menu when the café is opened to the public.
To help promote their campaign, Hotpoint are taking their Fresh Thinking Mobile Kitchen on the road for a tour across the UK to inspire and teach people handy tips and recipes to help prevent food waste.
XYZ delivered the Hotpoint Cookery Schools at Camp Bestival to kick off the start of the Fresh Thinking Roadshow. At the event, parents and guardians were able to book themselves and their child to take part in one of our Food Waste Cooking lessons.
Each cooking lesson consisted of the key campaign messaging on the Top 10 Most Wasted foods and the call to action was re-laid to the participants.  They were then taught how to make banana, apple and couchette muffins and a flat bread pizza using pickled broccoli steams as one of the toppings, they got to take away these dishes to share with their friends and family who didn't attend.
Camp Bestival was chosen as it boasts a strong sustainability message which was a perfect fit for the campaign. The festival's demographic provided the right target audience.
XYZ provided full event production including loading, health and safety, providing chefs and staff and scheduling.
Even though the festival was closed down early due to bad weather, XYZ  had a very successful two days prior to that with all cookery school lessons fully booked.
Will Mould, Managing Director, XYZ comments: "Hotpoint asked XYZ to give its consumers an experience that was both educational and practical, but also lots of fun.   With food waste being such a pressing issue, we wanted to bring the cookery school for delicious leftovers recipe to life.  We wanted to show that Hotpoint really understood the issues facing their consumers and how they could help them for the future.  It is a brilliant activation to be part of and great to see the message of recycling and food waste delivered in such an engaging and meaningful way."