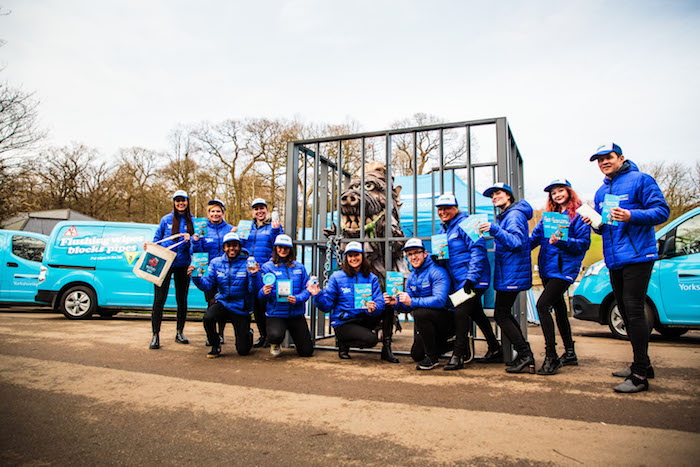 Yorkshire Water has launched it's 2019 integrated blockages campaign by challenging hotspot areas to become blockage free. The campaign consists of outdoor and social advertising, a fleet of community engagement teams, interactive experiential events, an eight-foot-tall 'Wipesaur' and a community fund of £40,000 for the hotspot area that that has the lowest number of blockages during the campaign.
Every year, Yorkshire Water is called out to more than 30,000 sewer blockages across the region, costing £2.4 million with 40% of these blockages being caused by wet wipes flushed down toilets.
Yorkshire Water has identified postcode zones in Leeds, Wakefield, Sheffield and Huddersfield that experience the highest number of blockages caused by wet wipes, up to eight times more than the regional average.
As a consequence, as well as launching the campaign and setting up the community fund, the firm is taking action to clean miles of sewers in each of these areas to try and keep them blockage-free.
Adrian Flanagan, leading the blockages campaign for Yorkshire Water said: "If we are to reduce sewer blockages in the long-term then we need customers to take action too by stopping wipes being flushed down the toilet and grease poured down kitchen sinks. We've given life to one of the metaphorical monsters that live in the sewer, and now it's unleashed in our target areas. The Wipesaur is a great way to start a conversation, it attracts so much attention and people just can't help but stop to find out more."
David Gibbons, managing director of iMP Experiential who are  supporting Yorkshire Water to deliver the campaign said "This is a great opportunity to have some real fun with the campaign messages but also to educate and inform consumers about how small lifestyle changes can make a big impact on the community and help improve the water systems in Yorkshire."
The campaign focusses on experiential marketing within each of the targeted communities, creating an opportunity for meaningful conversations, but is also backed by outdoor and social advertising that concentrates on delivering consistent messaging in the hotspot areas.
Adrian added: "We will have community engagement teams working across areas in Leeds, Wakefield, Huddersfield and Sheffield during the next few months to help spread the message of the importance of looking after the sewer network. You may spot them out and about on the streets or at your door, giving away free anti-blockage packs with items such as kitchen sink strainers to use in the home."
It is also encouraging residents in these hotspots to act themselves by setting up a month-long 'Blockage Free Challenge'. The postcode zone that records the fewest sewer blockages during the challenge will secure the entire £40,000 community funding pot for its area.