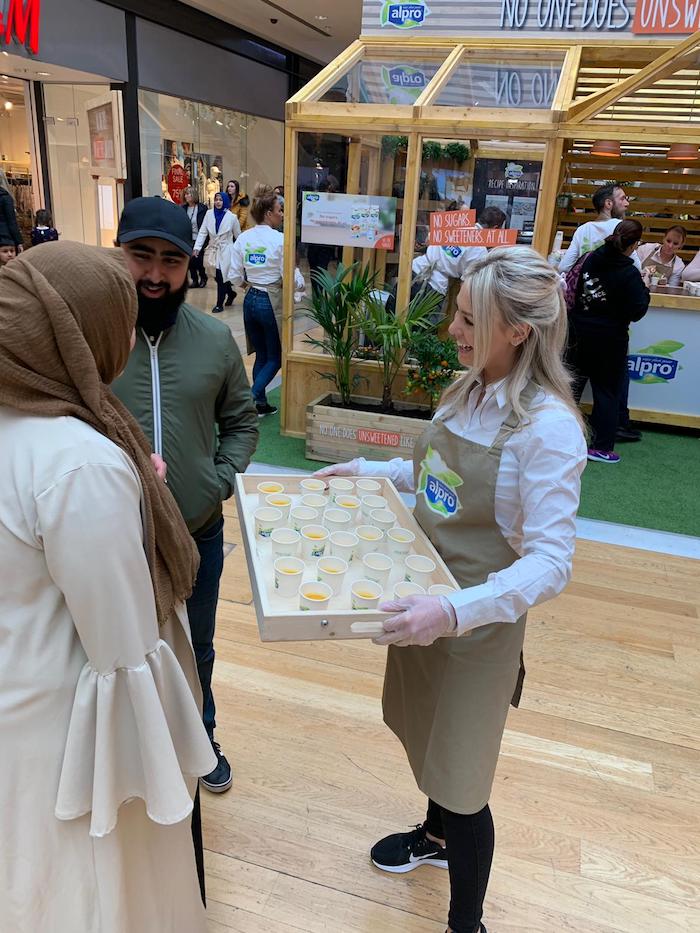 Alpro is kicking off its biggest ever sampling campaign in a bid to encourage even more shoppers to 'Go Big On Plants' in 2019. The activity will see 350,000 samples delivered into the hands of shoppers nationwide during February and March.
The tour started with an immersive 'plant-based pop-up' in Birmingham's Bullring on 16th February, which will then go on a three-week tour of the UK. This will be supported by roaming sampling units that will visit the UK's major cities including Bristol, Cardiff, Manchester and London.
The sampling will focus on promoting Alpro's pioneering range of plant-based Unsweetened products as part of the brand's New Year 'No One Does Unsweetened Like Alpro' campaign.
"Sugars is a hot topic in the UK but taste is the number one driver when it comes to food choice. Our one-of-a-kind Unsweetened range contains no sugars and no sweeteners at all and, what's more, because we use the 'power of plants' our products taste naturally great too," explains David Jiscoot, Marketing Director for Alpro UK & Ireland.
"That's exactly why we're hitting the road in a big way this year. We want shoppers to judge for themselves just how good our Unsweetened products taste, and experience first-hand what a versatile choice they are – whether that's as a partner to granola in the morning, stirred into soups for lunch, or in a host of evening meals.
"The 'plant-based pop-up' will transport shoppers from the city centre into a calm oasis where they can take a seat at our DIY toppings bar for breakfast, or tuck into a delicious Curry Carrot Soup for lunch or dinner," continues Jiscoot.
"We'll also be inspiring shoppers with plant powered pancakes ahead of Pancake Day, serving oat, almond and soya-based creations along with plant-based toppings so they can 'build their own' tasty pancake stacks.
"This brand-new activation will also see us pop up in brand-new territory, including our first-ever visit to Westfield in White City – to reach young families during the all-important half-term break – and an outing to London Victoria on Plant Power Day (7th March) to inspire commuters to 'Go Big on Plants' all day long."
The sampling forms part of an ongoing campaign to drive awareness of Alpro's long-standing credentials in the sugars arena. The Alpro Unsweetened portfolio includes Alpro Almond Unsweetened drink,Soya Unsweetened drink, Coconut Unsweetened drink, PlainUnsweetened Big Pot and its first-to-market Oat Unsweetened drink to form a one-of-a-kind range of great-tasting, versatile and 100% plant-based 'no sugars' products.
Purity supplied the brand ambassadors for the activation.