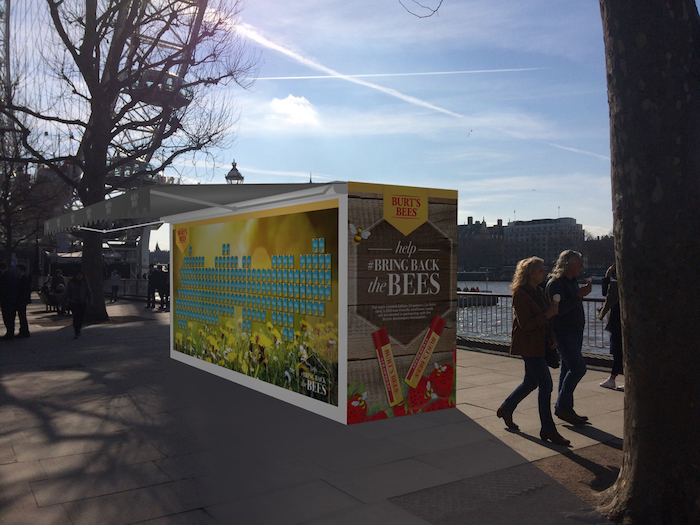 Ambient, working alongside Talon Outdoor and Omnicom Media Group's PHD, are launching a unique experience for Burt's Bees on 26th and 27th May on London's Southbank.
Around the world, the Bees are disappearing and they need our help.
After the success of last year's campaign, Burt's Bees, in partnership with the British Beekeepers Association, is relaunching their Honey Bee Health campaign, #BringBackTheBees, and this time they're looking to get customers sowing.
The campaign aims to encourage customers to Be a True Force of Nature and join Burt's Bees and their "Wall of Seeds" at the Queen's Walk on London's Southbank Centre, SE1 8XX, on 26th & 27th May 2018 from 10am-8pm. Customers will be able to collect their own bee-friendly, wildflower seed packet to help support the #BringBackTheBees movement.
Burt's Bees will be giving away 6,000 wildflower seed packets over the bank holiday weekend, with a total of 12 Million seeds being given away to help support the Bees.
No large garden required, you can sow the seeds on your balcony, porch or window box – even a 30cm2 or a patio plant pot is enough to create a thriving bee-friendly habitat.
"We took on-board feedback from customers in 2017 that they wanted even more ways to be involved with the cause and help Burt's Bees® to bring back the bees. PHD's campaign strategy was rooted in this, with the OOH activation acting as the perfect vehicle to do just this, equipping people with both seeds and information to make an impact on the crisis, themselves." Comments Becci Dive, Omnicom Media Group's PHD
In addition to planting seeds from the experiential "Wall of Seeds", the brand's Strawberry Lip Balm has been given a spring makeover! For each Limited Edition Bring Back the Bees Strawberry Lip balm sold, 5,000 bee-friendly wildflower seeds will be planted, in partnership with the British Beekeepers Association, in selected areas nationwide, offering nearby bees a nutritious and much-needed feast.