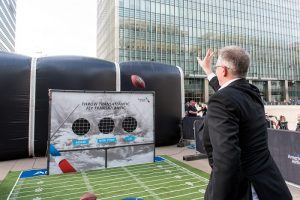 The world's largest airline, American Airlines, is launching an integrated Out-of-Home campaign at Canary Wharf Plaza. American Airlines is inviting Londoners to enjoy its bespoke Transatlantic Sports Lounge on the 4th and 5th October.  Here, commuters can enjoy a taste of American culture in a relaxed lounge setting, complete with complimentary canapes, drinks, sporting activities and competitions.
The brand activation was booked through Exterion Live, Exterion Media's new experiential offering, and in partnership with Kinetic and PMK*BNC. Commuters can experience American Airlines' hospitality with flight attendants greeting them upon arrival at Canary Wharf, before being invited to visit the premium pop-up sports lounge. Guests will be treated to a taste of American Airlines' gourmet drinking and dining, as well as luxury private booths and areas to work and relax in. The immersive experience also gives guests the chance to be coached in, and then test, their American Football throwing skills to win flights to key US destinations.
The experience builds on the wider campaign developed through Hello London – the media partnership between Exterion Media and Transport for London – and creative agency CP&B, and MediaCom, to engage an affluent and professional commuter audience at Canary Wharf. The station takeover has included creative solutions such as low-level vinyl panels, escalator fins and silver centres, ticket gateways and adverts on the premium digital Hello London Icon screens, showing creative content specific to the live brand experience days.
Brady Byrnes, director of global marketing, at American Airlines said: "We wanted to showcase our Transatlantic partnership with British Airways in a fun and creative way for Londoners, and highlight to this key business audience that American and BA offer the best network to the US. This was made possible through a fully integrated campaign, giving us a unique opportunity to reach the cosmopolitan professional audience at Canary Wharf."
Nick Tether, head of experiential at Exterion Media, said: "It's fantastic that American Airlines has chosen to use Canary Wharf – a prime station in the TfL estate – for its latest experiential campaign. We've witnessed an increasing demand for brand experiences and this campaign will both enhance the customer journey for commuters and enable American Airlines to engage with the station's influential audience.
"Our new experiential offering, Exterion Live, partnered with Hello London, gives brands the ability to create unforgettable experiences – from station domination and high impact digital assets, through to immersive brand moments"