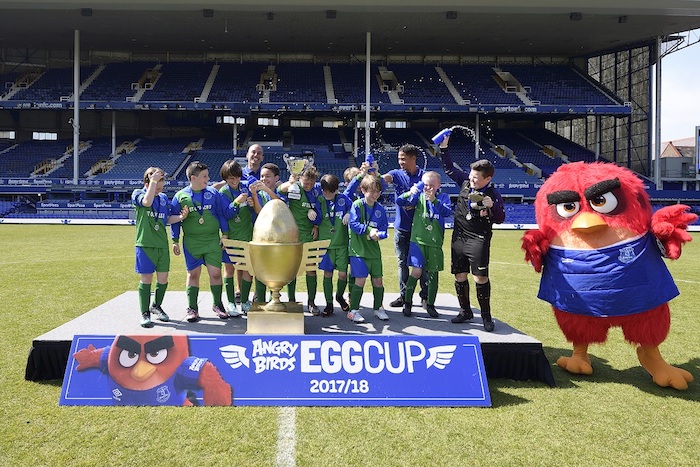 Everton Football Club's shirt sleeve sponsor, Angry Birds, took over the stadium to host the first ever 'Angry Birds Egg Cup'.
Over 160 local school children from the Blues' School Supporters Clubs' scheme joined Everton International Ambassador Steven Pienaar and former Blues star Leon Osman in turning out at Goodison Park on Monday afternoon to represent 16 local primary and secondary schools in a bid to be crowned the two Angry Birds 'Egg Cup' Champions.
The day got underway with each of the teams walking out of the tunnel to the Z Cars, a theme synonymous with matchdays at Goodison Park, before each school was joined for their official team photograph by Red, the Angry Birds mascot, before the tournament officially began.
Cheered on by their friends and family in the Upper Bullens stand, each team had the opportunity to play at least three games on the Goodison Park pitch in the group stages before the competition progressed onto knock-out games and then a semi-final before the big final.
St Oswalds School were the eventual winners from the primary schools in attendance as they beat St Anne Stanley in a closely contested final. Formby High ran out as secondary school winners after over-coming King James I. Former Blues stars Pienaar and Osman presented all runners up with a medal before officially presenting both winning schools with the inaugural Angry Birds 'Egg Cup' trophy.
All 160 school children in attendance left with a VIP goody bag courtesy of Angry Birds, including a badge, water bottle, limited edition egg cup, certificate and their very own new 2018/19 Everton home shirt!
Speaking after presenting the first ever Angry Birds Egg Cup trophies, Osman said:"It's been a fantastic day. Goodison Park is a fantastic place to play football and young children don't often get the opportunity to come and play on the pitch but with Angry Birds sponsoring the event and the Club opening it up to local school children, it's been great to see so many schools and children get the chance to play on the pitch.
"Through the Club and Angry Birds, the Egg Cup has been a big success. It's always nice to walk back out onto Goodison – As a former player I represent the past now but these kids could potentially be the future of the Club and not just in playing roles. The first Angry Birds Egg Cup has been a big success and it's always a great feeling to be able to put smiles on faces."
Stephen Porter, marketing director at Rovio, added:"It's important for Angry Birds and Rovio to engage with the local community and with children, as we want to connect with all fans, young and old. The Egg Cup was the perfect opportunity to bring both Everton Football Club and Angry Birds together in a branded tournament.
"It's been a lot of fun. I think all of the children here – and their families – will remember today for a long, long time. Our first ever Egg Cup has been a big success and we hope to bring it back next year even bigger and better!"
Launched during the 2015/16 season, the Everton School Supporters' Club initiative has become a great extra-curricular engagement tool for junior Blues to meet other like-minded students, make friends and learn more about the club they support. There are now over 100 schools signed up to the initiative, reaching from Netherley to New York and other international schools in Dubai, Spain, New Zealand, Laos and Vietnam.