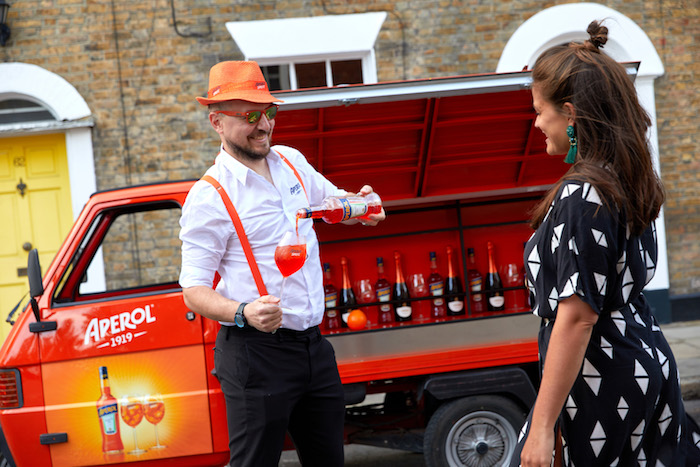 To help Brits celebrate National Prosecco Day, and start their evening in true Italian style, Aperol – Italy's iconic orange bittersweet aperitif – is giving people the chance to receive an Aperol-ivery and enjoy their first drink of the evening delivered to their doorstep.
Aperol-ivery winners can expect an Italian Aperol bartender's arrival at their front door, who will then make them and a friend a refreshing, perfectly crafted Aperol Spritz to start the evening off, served from Aperol's vibrant 'Aperol orange' Ape Van bar, Aperol-ivery offers the chance to 'pimp your prosecco' and enjoy the taste of the Italian aperitivo at home, completely free of charge.
The week-long Aperol-ivery service, launching on National Prosecco Day – 13thAugust – will be available in both London and Manchester.
With a fifth of Brits (22%) saying they haven't been for a spontaneous drink with a friend in over five months, National Prosecco Day provides the perfect opportunity to invite a friend over to begin the evening Italian style.
The Aperol-ivery service will call at winning London addresses, beginning on National Prosecco Day on Monday 13thand continuing Tuesday 14thand Wednesday 15thAugust. The Aperol-ivery team will then be journeying across the country to Manchester, where Mancunians can enjoy their hand-delivered Aperol Spritz on Friday 17th, Saturday 18thand Sunday 19thAugust. All deliveries will be made between 4pm-10pm.
To be in with a chance of winning, Aperol fans in both London and Manchester can apply online.  More Aperol Spritz Socials and nationwide events will be announced throughout the year.