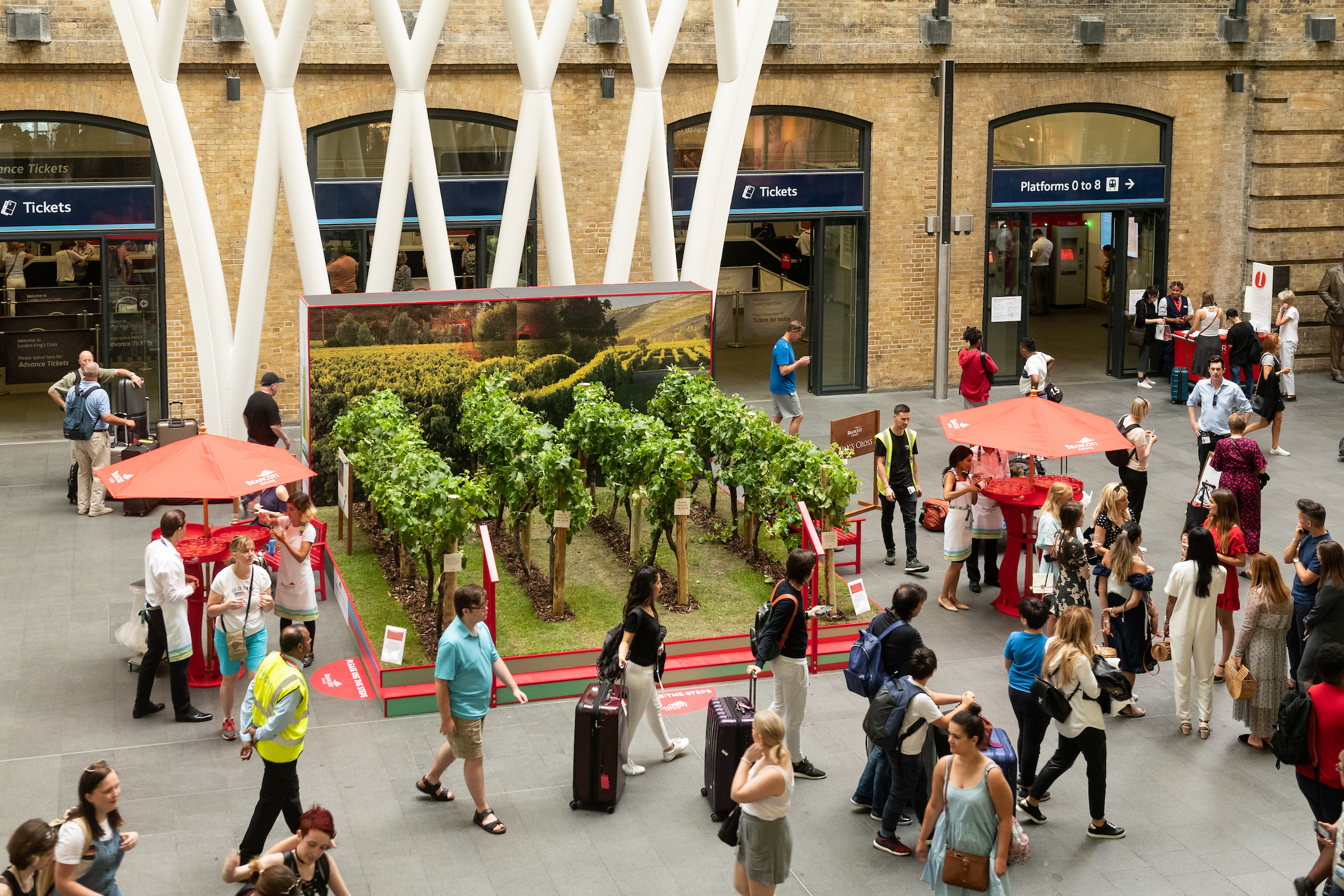 Cake, the Havas owned brand experience agency, has created the world's first train station micro-vineyard across train stations in London to brighten up commuters' journeys.
The micro-vineyard launched at Kings Cross Station on 17th July and re-appeared at Waterloo Station on 19th July, and London Bridge Station on 21st July and will be heading to London Paddington on 24th August.
The micro-vineyards are open for commuters from 8am where they can speak to wine experts, wander through the vines and take advantage of the 'Selfie Spots'. Samples of Brancott Estates Wines  Sauvignon Blanc will also be handed out from 12pm – 2pm and 4pm – 8pm to give travellers a taste of the unexpected on their way home.
Brancott Estate Wines were the first to plant Sauvignon Blanc in Marlborough, New Zealand and are now the first to sample their wine from the world's first ever train station vineyard! Commuters can escape the crowds and enjoy a free glass of wine amongst the vines before heading off on the rest of their journey.
With 50 separate vines, standing at over 7ft tall each, the micro-vineyards are as just as unexpected in the train station as they were in Marlborough back in 1973.
Maria Huete, Wine Ambassador for Pernod Ricard UK, said: "We're really proud of the Brancott Estate Wines heritage and being the first to create Marlborough's Sauvignon Blanc. We thrive on the unexpected and can't wait for our micro-vineyards to surprise travelers on their way through the stations. Definitely not what you'd expect!"
Paul Glossop, spokesperson for the concept said "Brancott Estate asked us to produce a fun and unique sampling experience, so we developed a concept true to the brands roots and have delivered the unexpected – the ultimate Instagrammable Installation and immersive wine tasting experience that awakens the senses from source, in London."