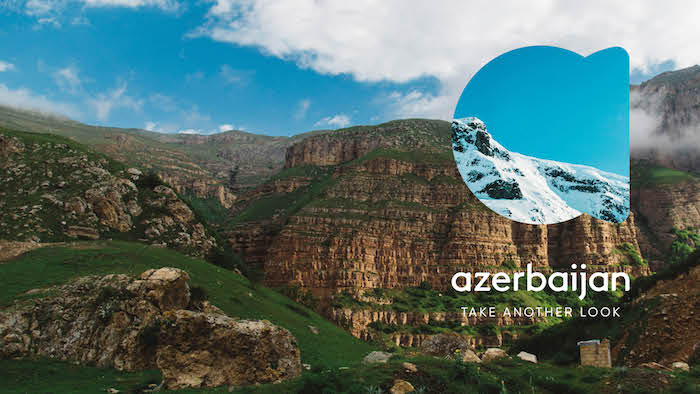 Azerbaijan Tourism Board (ATB) introduced its new brand inspired by the idea 'Take Another Look', an invitation to consider Azerbaijan from a new point of view. 'Take Another Look' aims to unlock Azerabijan's unique stories and secrets.
Created by Landor and launched at World Travel Market in London, the future-focused stand showcasing the new brand offers an immersive brand experience utilising VR to bring the brand to life. Landor has considered all aspects of the brand experience from digital to environmental and visual to verbal.
The brandmark comprises of two forms that come together to reveal a new icon based on the lowercase 'a' of the Azerbaijan name. This new visual device – the reveal lens – enables two contrasting views of the country to come together to reveal an intriguing new perspective on the place and its culture.
"The brand positioning and identity is an invitation to attract travellers to consider Azerbaijan from a new point of view and discover its untold stories and secrets," explains Emma Beckmann, President of Central Eastern Europe, the Middle East & Africa at Landor.
"This has been a fascinating project, bringing together a cross-regional team of Landor destination branding experts to develop this intriguing brand for the fascinating country that is Azerbaijan," said Shaun Loftman, Executive Creative Director of Central Eastern Europe, the Middle East & Africa at Landor.
Currently on the cusp of a tourism boom, Azerbaijan has welcomed in-bound visitors spending more than US$1.3 billion in 2017, taking it to the top echelon of the fastest-growing tourist destinations in the world.
"Azerbaijan's new identity showcases its diversity and value as an excellent tourism proposition. It is supported by its rich history dating back five thousand years, to a time of welcoming travellers and new cultures as being part of the Great Silk Road. With a vibrant gastronomic experience; spectacular landscapes ranging from summer countryside to winter ski slopes; adventure trails; cultural events and rituals; and the warm Azerbaijani hospitality, Azerbaijan is in an excellent position to cater to high volumes of tourists seeking authentic local experiences", said Florian Sengstschmid, CEO of Azerbaijan Tourism Board.