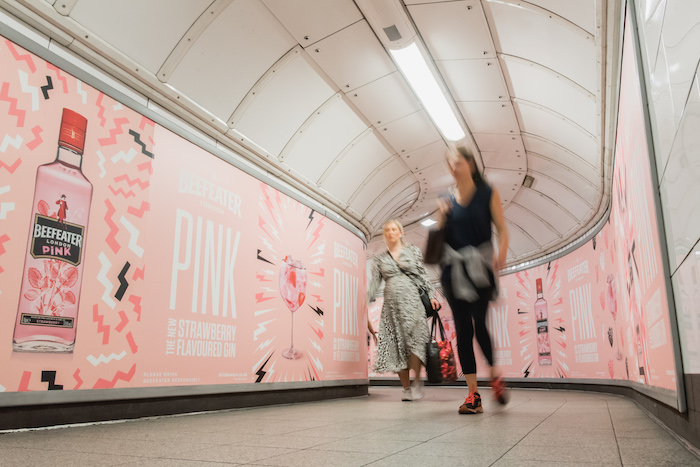 Pernod Ricard UK has this week installed strawberry scented posters throughout Oxford Circus underground station as part of thelaunch campaign for Beefeater Pink, the new pink variation of its Beefeater London Dry Gin.
In a campaign devised by location marketing specialist Posterscope and strategic media planners at Havas in partnership with Exterion, Pernod Ricard UK's immersive Oxford Circus Out-of-Home (OOH) 'exit domination' campaign takes customers on a sensory brand experience as they leave the station. The activation includes four strawberry-scented exit corridorsand a vinyl wrapped escalator with LEPs (escalator panels).
Beefeater Pink is the recently launched pink gin from Beefeater London Dry Gin, which fuses natural strawberry flavour, citrus and classic juniper botanicals for a delicate and refreshing gin with a visually vibrant, statement-making shade.
The two-week campaign feeds in to a wider global brand campaign created by independent agency Impero, which features digital, on-trade and social, with media by Havas.
Philip Ainsworth, marketing director for Pernod Ricard UK, said:" Distilled in London, Beefeater Pink represents the spirit of the city where convention and modernity coexist, so a London Underground OOH domination made complete sense. Our main target is young millennials aged 20-27 and we want our marketing to be playful, fresh and as disruptive as possible.  Posterscope and Exterion's idea of the first ever scented London Underground campaign met this brief perfectly."
Stephanie Marks, managing director for Havas Media UK, said: "Our clients came to us with a wonderful audience insight of millennials 'tasting with their eyes'. We developed a strategy where we focused on expanding their senses across all channels, and this fantastic opportunity to dominate a key London station with scented strawberry posters helps the product come to life. We are already looking at how we can create more sensory experiences with our media in coming months."
Nicci Loudon, senior planning and buying manager at Posterscope, added:" The Oxford Circus takeover provides the perfect environment to launch Beefeater's new strawberry flavoured gin, allowing us to deliver a bold and impactful campaign. Using fun and vibrant creative and incorporating the innovative use of strawberry-scented posters, we've been able to create a truly multi-sensory campaign that will appeal to our target audience."
Michael Scantlebury, creative director at Impero said, "Brands need to work extra hard to cut through the sheer amount of content and ads our industry puts in front of consumers every day, so we constantly need to find ways to truly catch and hold their interest. We're thrilled to be working with Havas, Posterscope and Exterion to bring to life our highly visual campaign with the added element of scented ink!"