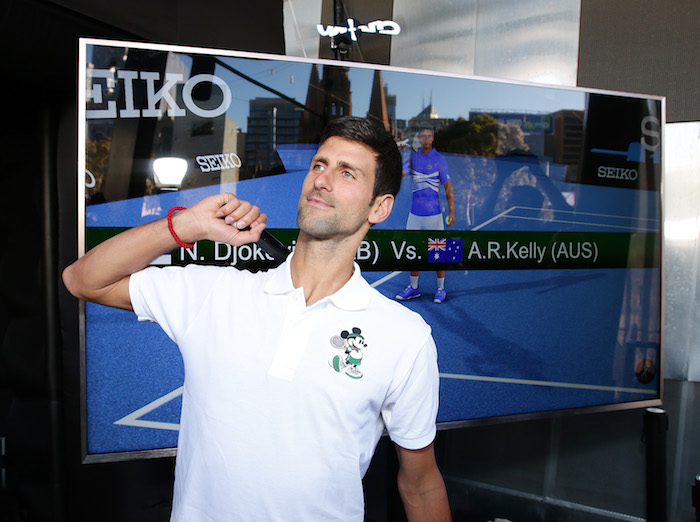 PR, advertising and events agency, Believe Advertising, has been appointed by Seiko, to manage publicity for the watch brand's international surprise PR stunt with Novak Djokovic, held in Melbourne, Australia.
Novak Djokovic, the top-ranked ATP star, took time out of his training schedule to meet his most challenging opponent yet – himself. The world's number one tennis star encountered a specially created, avatar of himself, incorporated in a world first virtual reality computer game.
News of Seiko's event made international headlines, instantly.
This is the third time Believe Advertising has worked with Djokovic initially creating for Head Tennis an event that saw Novak hitting a tennis ball faster than a speeding race car. The agency has also previously created and managed publicity for the international announcement of the world's number one tennis player, being the face of Seiko watches.
"I'm honoured to have once again been given the opportunity to work with Novak Djokovic on this project for Seiko and be chosen as the PR Agency for this international event. Novak is the most inspiring person I have met and is such a privilege to have worked with him now, three-times over." Adrian Falk, Director, Believe Advertising & PR.
Leading up to the event, tennis enthusiasts battled it out at Melbourne's Federation Square, playing the specially designed VR game with the top four winners having the opportunity to meet Novak, when he surprised them on stage, with the winners all receiving a limited-edition Seiko Novak Djokovic watch.
Novak also spoke to the Melbourne crowd in a Q&A session about being number one.
"I can't think of a better way to start 2019, than with a successful international PR launch with Djokovic and leading watch brand, Seiko." Falk says.
Over the past 16 years Believe Advertising has been responsible for working with acclaimed companies including Seiko, Head Tennis, Furla Italy, Vodka O and VDKA 6100, Heidi Klum's range of Birkenstocks and Intercontinental Fiji Resort & Spa to name a few.
Adrian Falk created Believe Advertising & PR 16 years ago after returning from New York and believing he could do a job better than others. Armed with the Yellow Pages and a lot of passion, Falk has successfully established a client base of leading international and national companies from a range of industries.