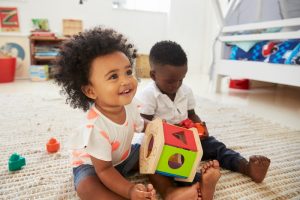 The Big Lottery Fund, the largest funder of community activity in the UK, has appointed creative agency 23red to lead a new campaign promoting early childhood development.
The campaign is part of A Better Start, a ten-year National Lottery funded programme set up by the Big Lottery Fund to help families give their babies and very young children the best possible start in life. It will run in the five areas of England where A Better Start is based: Blackpool, Bradford, Lambeth, Nottingham and Southend.
Led by 23red, the campaign will aim to increase understanding about the science behind children's social, emotional and language development. It will target caregivers and parents of children aged 0-4, which is recognised as the most instrumental period of rapid development in human life and is an essential aspect of socialisation and growth.
The theory behind the campaign builds on the Frameworks Institute's Core Story of Early Childhood Development research; a set of important scientific insights into early brain and biological development. The insights have been distilled and translated into themes and metaphors that make the concepts more accessible to the public. This will be the first time the research has been used in this way in the UK.
In addition to developing the concept and delivering all campaign assets, 23red will be developing a media plan for each A Better Start partnership to deliver in their local communities.
Sarah Gibbs, head of funding for A Better Start at the Big Lottery Fund, said: "We are excited to be working with 23Red. Drawing on their expertise in behavioural change, this campaign will take the evidence behind good early childhood development and make it relevant and real to the lives of new parents and caregivers, helping them to give their children the best possible start in life."
Marcus Hernon, client partner at 23red said: "The significance of early childhood development is often overlooked. Everyone has a role to play giving children a better start and to make a real difference for future generations which is why we're so delighted to be a part of such an influential campaign."
The campaign is set to launch in 2019.