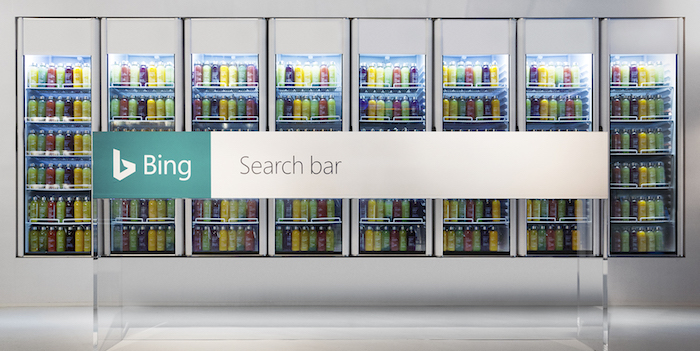 McCann London and search engine Bing have constructed the "Bing Search Bar" – an actual juice bar at London's King's Cross station on Wednesday 2nd May, where commuters can pay for their juice with a Bing search.
The concept of gaining something you really want simply by searching on Bing is a way of bringing to life the principle behind Microsoft Rewards. This rewards programme enables users to earn with the everyday searches they make on Bing, which can then be exchanged for movies, games, apps and more.
The Bing Search Bar has been built to resemble the Bing homepage, with a white search bar (which serves as the bar counter) set against a colourful backdrop of rows of juices. Instead of listing the flavour, the label on each bottle poses two intriguing questions relevant to the juice's ingredients. Guests to the Bing Bar can search the answers using tablets, guided buy a brand ambassador,  and are rewarded with a juice.  Hence, rewarding their thirst for knowledge.
This activation about the rewards programme supports McCann London's wider Bing ATL campaign, which focuses on Bing's other intelligent features such as searching within an image, predictive search, and multi-perspective answers, all designed to reinforce Bing's positioning as the Intelligent Search Engine. McCann London was awarded the Bing account in July 2017.
Laurence Thomson, co-president and chief creative officer, McCann London, said: "We're stoked to be working with Bing and wanted to show, in a visually iconic way, a physical manifestation of Microsoft Rewards. With the first search bar that's an actual bar, as you search you get stuff in return – a little reward and also the information you were looking for."
Brian Kealy, head of international consumer marketing at Bing adds: "Bing see activations as a great way to interact directly with consumers; it give us a great opportunity for users to experience our product first-hand . Many people are not aware of Microsoft Rewards and the points you accumulate through searching with Bing that can in turn be redeemed through charity donations, money off vouchers and prize give-aways."