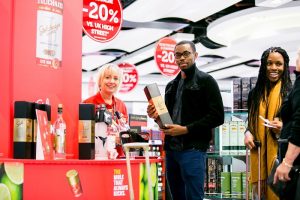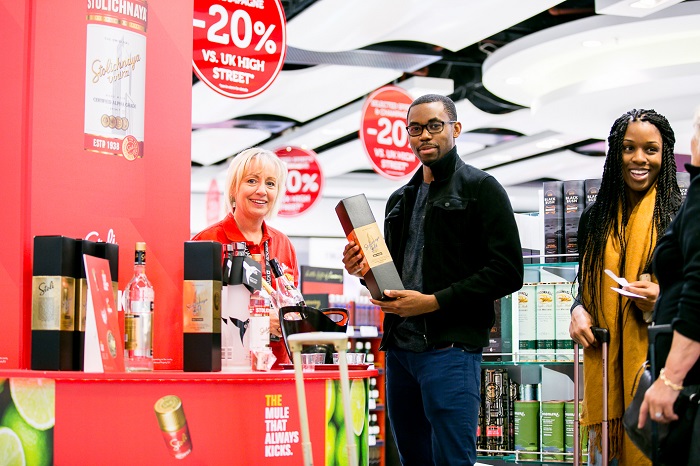 Blackjack Promotions has been working with Stoli Group's flagship brand, Stoli vodka, on a campaign at London Gatwick Airport, targeting Legal Drinking Age (LDA) active 'cosmopolitan' travellers with samples of the brand's signature serve, the Stoli Mule, as well as the opportunity to taste Stoli Elit and Stoli Gold.
Blackjack delivered full production and installation of the promotional stand along with trained brand ambassadors, plus full logistics and consumables support.
The activity was delivered in the main World Duty Free Store at Gatwick South Airport. The target demographic was Stoli's key buyers – young, active travellers 20- 48, active lifestyle admirers, cosmopolitan and open to new opportunities. Demographically, they tend to be European city dwellers, Americans and travellers from Middle-East (including Lebanon, Dubai, Turkey and Egypt).
The brief was to create brand awareness for the full range of Stoli original, Stoli Elit and Stoli Gold and to drive sales by educating consumers on Stoli and how to use it in the Stoli Mule and by incentivising consumers with the offer of a mini Stoli Mule cup with purchase.
Jean-Philippe Aucher, Global Duty Free/Travel Retail Director, Stoli Group, said: "Blackjack is our long term partner, with whom we'd been doing many promotions across the UK. Blackjack provides not only the stellar promoter staffing solutions, but also exceptional quality services for building and branding activation slots. Everything we do with Blackjack is high quality, always within budget and always to deadlines."
Andy De Vito, Head of Experiential, Blackjack Promotions, says: "Stoli are such a great client to work with — they always take a collaborative approach when planning activations. This latest work is a great example of how we are now able to offer full service capabilities, meaning one point of contact for our client throughout their activation. Stoli have fantastic products and an amazing brand and we look forward to working with them on future projects."