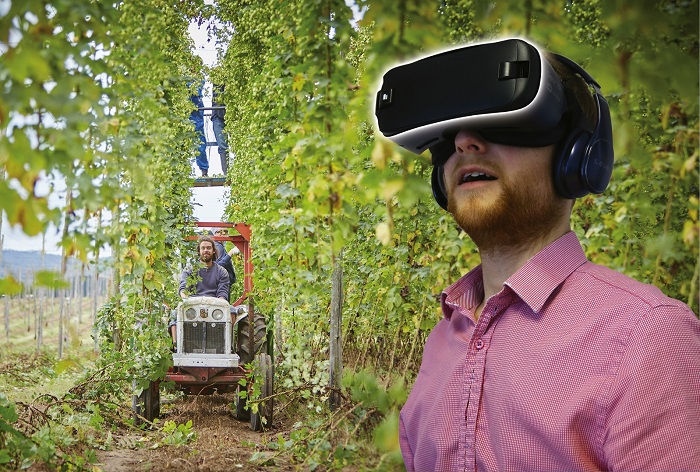 Landsec has announced that Shepherd Neame, Britain's oldest brewer, has launched a seasonal pop-up brewery store at Bluewater, Europe's leading retail and leisure destination.
The 1,800 sq ft brewing boutique, open until July 5 2017, is located in the Upper Guildhall adjacent to Zara, and is designed to showcase the Shepherd Neame brand.  The store includes a bar featuring their first ever cider, Orchard View, and new Cinque Five Grain premium lager.  Guests can also immerse themselves in the world of brewing and purchase merchandise and Shepherd Neame bespoke products, including bottled beers, from the brew shop.  In addition, a pioneering 'HOPS360' virtual reality experience has been created, allowing each guest to take a virtual tour of a hop garden.
Heinz Kloihofer, Bluewater's Mall Leasing Manager said: "Shepherd Neame's arrival is a unique addition to Bluewater, and will further cement our status as destination of choice for memorable shopping experiences.  Shepherd Neame has created a great brewing boutique store, that really brings their brand to life, showcasing their products and immersing guests in the world of Shepherd Neame."
Jonathan Neame, CEO of Shepherd Neame, added: "It's great to have collaborated with Bluewater, an exciting and thriving retail destination in Kent for our pop-up store.  We have a fantastic line-up of merchandise, our new cider and premium lager, promotions and activities for Bluewater guests.  We look forward to welcoming enthusiasts and those curious to learn more about beer and brewing."
This announcement follows the launch of Missguided's first store outside of London at Bluewater earlier this month.  In addition, Smashbox's launched its first store in South East last month and April saw The White Company open its newly upsized statement store on Bluewater's lower Guildhall.
Bluewater and Shepherd Neame both dealt direct.