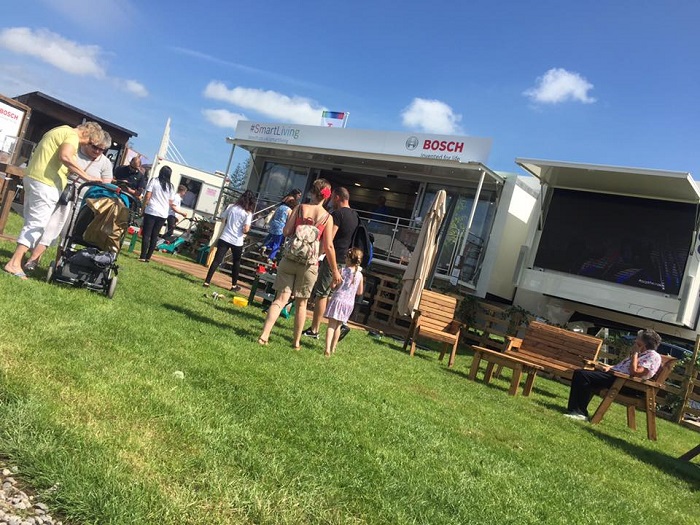 Global roadshow agency, Event Marketing Solutions (EMS), has been working with The Bosch Group  on a five-month roadshow of the UK to showcase its latest smart products.
The 'Smart Living' tour is a first for the technology giant, as it brings together four of its main business areas for the first time – Bosch Home Appliances, Power Tools, Worcester Bosch and Smart Homes – working in union to promote the brand's integrated solutions for sustainable living.
With the help of EMS, the mobile product exhibition has been taking consumers through a fully connected home that utilises the latest sensors, software and services technology. The campaign aims to demonstrate Bosch's philosophy in making life easier and improving quality of life for all, particularly within the home.
The experience includes interactive displays and hands-on demonstrations to showcase all elements of a smart home, from connected kitchen appliances with remote access, to intelligent heating and connected home security solutions. The exhibition extends into a makeshift garden, in which visitors have the opportunity to trial Bosch's Indego robotic lawn mower and Bosch powered eBikes.
EMS designed and fitted out its Exposure truck for the tour, whilst also using its expertise in technology roadshows to take on the logistics, planning and management across 10 festivals and shows.
Nic Whelan, business development director at EMS, commented: "Smart technology, in particular, has really taken off in recent years, and Bosch is leading the way with its in-depth knowledge in so many sectors, allowing it to create an entire smart home from its own products. It's certainly an exciting project to have worked on.
"We're seeing more technology companies looking towards roadshows as a way to engage with dispersed audiences and have them experience the products first hand. The technology we now have access to at our workshop will be instrumental in our ability to cater to this rising demand."