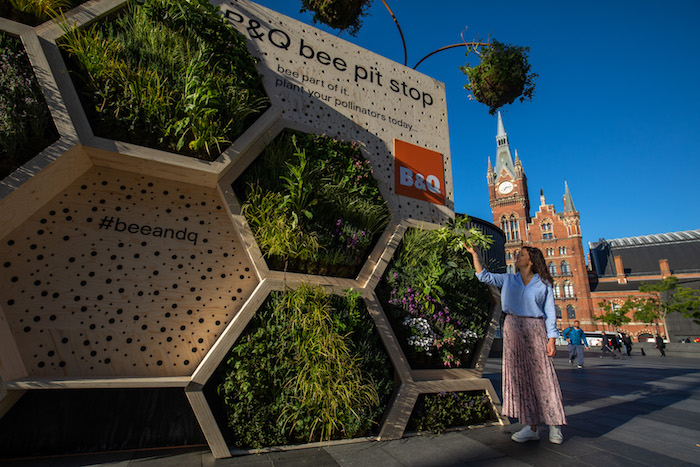 A giant 'Bee Pit Stop' adorned with thousands of pollinating flowers was constructed in Kings Cross, London to raise awareness of the steep decline in the UK's bee-friendly habitats.
It comes as rapid urban development, alongside other factors such as climate change, means bees have to travel further and further between areas that are suitable for them to feed and nest, meaning safe spaces with suitable flowers are harder to come by.
Launched  by B&Q outside King's Cross station, the billboard measured nearly 36m² and features thousands of flowers across 17 different varieties – with over 500 plugs of lavender and an abundance of spurges, salvia and sedum.
The  installation is comprised of clever hexagonal sections – representing the structure of honeycomb – as well as two overhanging arms which mimic the shape of bee antennae.
Created by B&Q in collaboration with designer of the RHS award-winning 'B&Q Bursting Busy Lizzie Garden', Matt Childs, the 'Bee Pit Stops' aim to encourage the nation to plant one million individual 'bee pit stops' in outdoor spaces across the country. A bee pit stop is a dedicated area populated with bee-friendly flowers.
Whether it's a whole pollinator flower bed, or just a pot of lavender on a balcony, a bee pit stop is a safe space for bees to rest and refuel, which Brits can easily create in their own outdoor space.
Steve Guy, Outdoor Market Director at B&Q, said:"The livelihood of bees is intrinsically tied to ours so it's incredibly important that we do our part to save the bees – the consequences are dire if we don't act.
"We know that UK gardeners are increasingly eco-conscious and want to create outdoor spaces that are kind to nature and wildlife, but it's imperative Britain takes action, and there is still more we can all do to make our gardens a haven for bees. Whether you're planting a pot of lavender on your urban balcony, or a dedicated pollinator bed in your garden, it's a lot easier than many think to create a 'bee pit stop' so we want as many people to get involved as possible."
The installation comes as new research reveals that over half (54 per cent) of Brits consider themselves 'eco-conscious', and 85 per cent said they would like to see more bee-friendly spaces, especially in urban areas.
However, 22 per cent don't think their outdoor space is inviting to bees, and half don't know how to make their own outdoor space bee-friendly – with the main barriers cited as lack of know-how (31 per cent) or knowing where to start (29 per cent).
A spokesperson from Greenpeace, added: "Bees together with bugs are important and essential pollinators.  Four out of every ten forkfuls of food off your plate are down to the bees. It's vital that we do everything possible to encourage and protect them. Not only are they at risk from powerful and unnecessary pesticides they also suffer from pests and parasites capable of decimating their hives. Greenpeace agrees that the benefits of planting nectar rich wildflowers and encouraging bees into your lives will make a real difference and help to build back those lost colonies and make you happy."