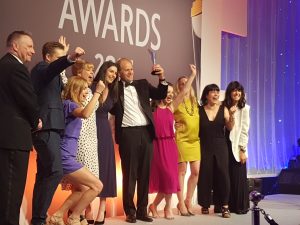 This year's Institute of Promotional Marketing (IPM) awards showcased the effectiveness of brand experience campaigns as established agencies such as Haygarth, iD, Ignis, PrettyGreen, RPM, HRG, Highjam, TracyLocke and Circle scooped gold for their live brand experience work and other integrated campaigns from 23red, Toucan with Brand and Deliver, Bray Leino also made excellent use of the live platform.
The evening was especially one of celebration for Sense's Future Discomfort campaign with The Economist. The highly successful experiential campaign won gold in both the Consumer Services and Creative Execution categories, as well as taking the Grand Prix award for best overall campaign. Discomfort Future takes consumers out of their comfort zones by bringing The Economist's stories to life in the real world, and has generated more than 30,000 subscriptions worldwide in two years.
"What an amazing accolade," said Sense MD Nick Adams. "We have now won 14 awards for The Economist Real World campaign over the past two years, which have seen a very tactical test grow into a global programme executed in multiple territories around the world, practically 365 days a year. This is wonderful recognition for our teams in London and New York who every day are dedicated to maximising campaign performance. I'm truly delighted for all our colleagues at The Economist who are making Discomfort Future such an inspiring and pleasurable journey."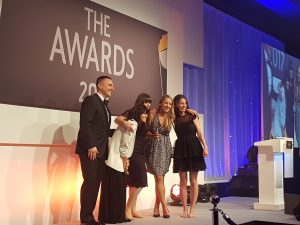 Commenting on a great night, Marina Haydn, EVP Circulation and Retail Marketing at The Economist, said: "We are thrilled with the recognition for the strategy and executional excellence behind this activation and I'd like to thank both my team and my Sense colleagues for making Discomfort Future such a big success. It's a powerful approach that continues to drive growth of The Economist readership and positively contribute to our brand equity."
Agency TracyLocke scooped two gold awards for their "Dolce by Ferrero Rocher" campaign – an unprecedented, multi-sensory dining experience set in the heart of Covent Garden. Hugh Boyle, CEO of TracyLocke, commented, "TracyLocke is incredibly proud to have won our first UK award with Dolce by Ferrero Rocher. The team was able to create a best-in-class campaign for one of the most iconic chocolate brands, delivering an immersive and sharable experience that educated and entertained in equal measure."
Agency 23red celebrated the full trio of gold, silver and bronze awards for their work in the charity and non-for-profit sector.  The gold winning NHS Blood Transfusion campaign cleverly used augmented reality at high footfall shopping centres to encourage the public to virtually give blood using an app on their phone in conjunction with Ocean Outdoor's billboards.  The activation then followed the real-life stories of the people the blood donations had saved and allowed the virtual donors to follow their story.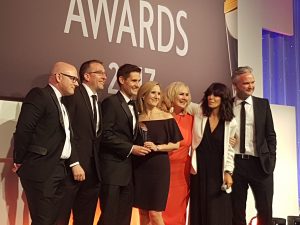 Circle Agency won Gold awards for their work with longstanding clients PlayStation and Orbis Access. Claire Stokes, founder and managing director of Circle Agency comments: "We are thrilled to have taken home 3 gold awards and a bronze award at this year's IPM Awards. The standard of competition was exceptionally high and so we are extremely proud to have been recognised for our work with PlayStation and Orbis Access. We are very lucky to work with clients who enable and encourage us to push boundaries and the freedom to try new tactics. Receiving recognition from our esteemed industry colleagues at the IPM, is the icing on the cake."
Frank Wainwright, awards director, FMBE Awards, attended the awards as a guest of the IPM. He comments: "This was an amazing set of results with wins for our industry across the board, including practical shopper campaigns right through to bold creative ideas with a number of breakthrough activities winning gold. I can't wait to see the best of these at FMBE."
Frank continued, "The IPM's Experiential Council is currently making great strides towards helping member agencies show off their robust results and ROI accountability and I know that many of these gold winners are results driven success stories. Congratulations to all of the winners."
The IPM Awards also enjoyed excellent brand ambassadors, from sponsor POD Staffing and a cool green screen posing area by Pictures Experience.