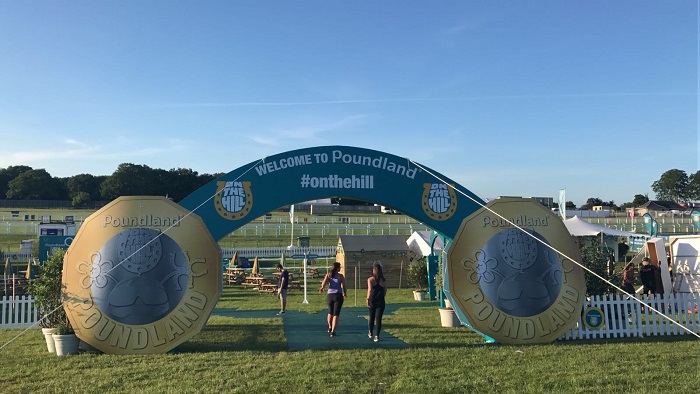 Since the 1800s families have flocked to the Hill to experience the carnival atmosphere of the Epsom Derby. And now, as the people's store, Poundland is looking forward to joining the People's hill. Visitors will be able to learn about the rich history of the Derby and take part in race-themed games. Families will have the chance to win prizes at the Poundland Stable and claim their free souvenir photo at the Photo Finish. They'll also be able to buy race day essentials, cold drinks and snacks at Poundland's pop up shop, the 'Till on the Hill'.
Key to the campaign is ensuring the activation gains a wider reach than the festival itself so live social feeds including Facebook Live will be shared throughout the day, capturing the excitement from the races from the brand's perspective. Key moments to encourage user generated content have also been considered, as racegoers will be encouraged to interact using #onthehill – to share their best bits and enter into prize draws during the event, seamlessly building on Poundland's current social plan.
Savvy's Group Account Director Sarah Dennis comments: "With its scale and size, this has been one of our most ambitious experiential activities to date. To realise it we brought together a bespoke team of social media strategists, event planners, creatives and technologists to ensure we delivered something truly magical."
Mark Pym Trading Controller said 'This is the single biggest experiential activation for our brand which has only been made possible by working in partnership with Savvy, they have been a fundamental extension to our team here at Poundland- it's been a fantastic collaboration which we're all really proud of' Poundland on the Hill opened at the Epson Derby on Friday 2nd June and was open to the public for the entire period of the festival over the  weekend.