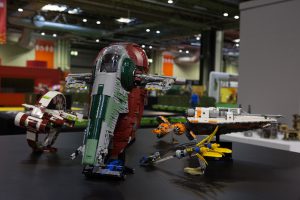 Bricklive, built for Lego fans, has enlisted the help of staffing agency StreetPR to provide staff for its Bricklive Christmas event at London's prestigious Saatchi Gallery on the Kings Road, Chelsea.
The event, which started on November 25 and runs for six weeks, includes three shows a day for up to 400 people each. Bricklive Christmas has been designed to offer Lego fans of all ages a wide range of activities and interactive features based around the toy. There are expert builder displays, the chance to create mosaics and Christmas presents and the opportunity to meet Mrs Claus.
The show is split across four zones: Star Wars, Minecraft, Creative Zone and the Christmas Zone. Each one offers a different experience in building and creating.
Paul Esson, commercial director of Bricklive, says: "We're aiming to build the ultimate brick fan experience, and StreetPR is providing show makers to help us deliver on that promise. They will be working on various elements of the show, including reception, meeting and greeting visitors and helping them with any enquiries they might have, as well as looking after our VIPs. Our visitors don't tend to need any help putting the bricks together, but I suspect the StreetPR show makers will get stuck in if they're asked to! They will be wearing Bricklive-branded T-shirts and we'll be having up to 10 show makers on duty every day, depending on how many visitors we're expecting."
Founded in 2014, Bricklive runs or licenses events for brick fans around the world. In the past year, UK Bricklive events have taken place in Glasgow's SECC, London's ExCeL, Belfast's TEC and Birmingham's NEC. Bricklive is an independent company and is not associated with The Lego Group.
Dorian Payne, head of operations at StreetPR, adds: "For Lego fans, Bricklive is the ultimate experience, and we're looking forward to helping them deliver a great Christmas event. As a child, I was a massive fan of space Lego and my son loves the Star Wars collections so we are both really looking forward to seeing it. The Saatchi Gallery is a cool and stylish venue, and I'm sure it will help stimulate visitors' creativity. I can't wait to see what people come up with."