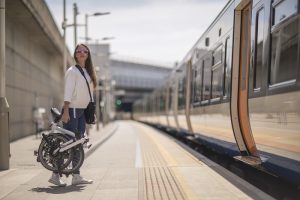 Brompton Bicycle, the folding bike manufacturer, has announced the first run of Brompton Electric bikes are available to reserve in the UK.
As urban populations continue to grow at an unprecedented rate, there are increasing pressures on infrastructure, physical and mental health. The bike is a simple solution. In London just 5% of all journeys made are by bike compared with 13% in Berlin and over 50% in Copenhagen. A recent study showed that cycling to work lowers the risk of premature death by 40%, demonstrating the many benefits of cycling.
Across mainland Europe e-bike ownership has grown rapidly encouraging more people to cycle, more often but sales in cities remain behind the trend, due to the lack of portable and safe to store options.
"Cities are about to change. We've spent five years taking Williams Racing technology and integrating it into the Brompton. It has been harder than any of us imagined but we believe we have created a product that will inspire more people to get out from under the ground, out of their cars and back onto a bike to rediscover their cities. With the Brompton Electric you feel you have the wind behind you all day, it is so much fun and a bit cheeky as whizz up hills, nip off at the lights and arrive anywhere raring to go." Will Butler-Adams CEO Brompton Bicycle
The Brompton Electric was showcased at Ride London, Saturday 29th July 2017 offering people the chance to demo the bike for the first time. UK customers wishing to be the first owners of the bike, due to be delivered from early 2018. The bikes will also be available to demo at Brompton Junction London from the beginning of August and selected events around the UK.