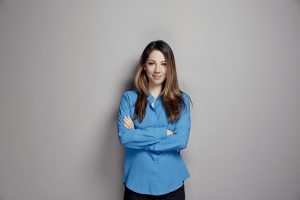 The Camden Watch Company has announced Young Entrepreneur of the Year, Jackie Fast as its new brand ambassador for 2018.
Jackie, an entrepreneur who is best known for securing sponsors for some of the world's biggest platforms, will be exclusively designing a watch and supporting the brand through a number of exciting events this year.  Following the sale of her sponsorship agency Slingshot Sponsorship, which she started in her bedroom in 2010 with only £2,000 and sold last year, Jackie is now involved with a number of projects whilst also promoting her latest book 'Pinpoint: how challenging the norm is the only route to success in selling sponsorship'.  This partnership will be the first time that Jackie will be involved in a sponsorship deal as the ambassador herself.
Speaking on the deal, Jackie said: "I've been involved with hundreds of brand ambassador deals, but to actually be the brand ambassador is a pretty special opportunity.  With my experience in maximising exposure – I'm quite excited to be working on both sides of the table and more importantly, can't wait to see the results of our partnership!"
The Camden Watch Company are incredibly innovative with their brand ambassador programme – working with micro influencers that truly encapsulate the essence of the company.  From barbers to photographers, their unique approach has been instrumental in the exponential growth of the company.
Jerome Robert, Co-Founder of The Camden Watch Company added: "We are excited about this partnership as we pride ourselves on our beautifully designed products infused with the finest details and Jackie encapsulates our creative desire perfectly!"