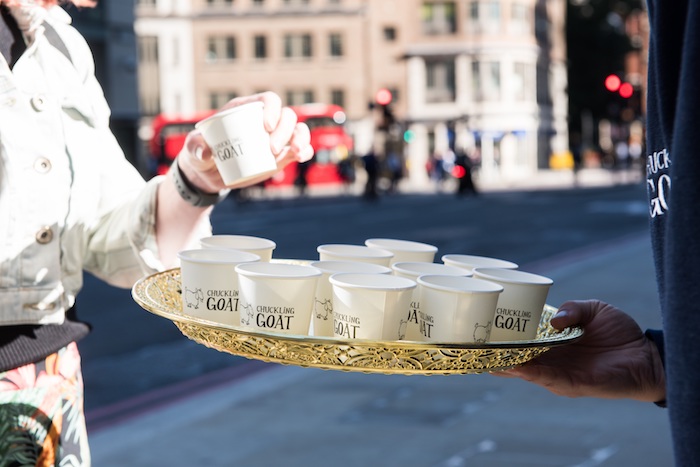 Londoners have been getting free advice from top experts on how to get 'gut healthy' with a free pop-up gut health clinic.
Held on Monday September 2, the event featured Chuckling Goat founder and gut health expert, Shann Jones, giving one-on-one consultations with members of the public.
There was also the opportunity to sample Chuckling Goat's latest product, its Complete Prebiotic powder, which is designed to be taken alongside the brand's award-winning goats milk kefir to achieve ultimate gut health.
The event helped Londoners kickstart the week on a healthier note, with attendees treated to  vegan breakfast pancakes and the opportunity to have a go at some light Tai Chi exercise outside.
Shann Jones, nutritional adviser, gut health expert and founder of Chuckling Goat, said: "The state of your gut can determine a lot in terms of your overall health; from skin issues like eczema, allergies, mental health and even joint pain. We were really excited to launch our free drop-in gut health clinic as it was a unique opportunity for people to chat one-on-one with myself and my team of experts about any health concerns they had."
Working closely with the leading microbiome scientists at Atlas Biomed, the Chuckling Goat team took advantage of the latest research to develop its Complete Prebiotic powder – making it as easy as possible to achieve ultimate gut health.
Shann commented: "Imagine your gut is a beautiful exotic fish tank. As a probiotic, Chuckling Goat Kefir puts the fish into that tank. But what do you feed the fish, to keep them alive? Gut bugs eat fibre. Recent science reveals that there are 19 different types of fibre required by your gut bugs to keep them healthy. These fibres include exotic items like maitake mushrooms, arrowroot, and tamarind powder – not things ordinarily found in the British diet, or easily purchased on the supermarket shelves. To make it quick and easy for you to feed your gut bugs the premium diet they require for full gut health, the Complete Prebiotic powder, is just the answer."