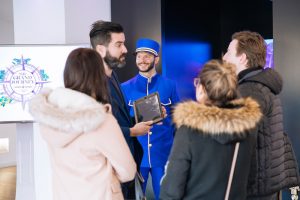 Visitors, Sponsors, Exhibitors and Entrants have provided universal acclaim for the BE Connected Showroom and Judgement Day, hosted at Oxo2, South Bank.
The event, delivered in collaboration with Hammerson Engage, enabled all sides of the FMBE industry to get together at an extraordinary pop-up gallery – a creative display of ideas and innovations at Oxo2, in an exhibition lasting for just 5 hours on Tuesday 16th January.
Hammerson Engage supported the Image Gallery as well as introducing guest speaker and renowned garden designer Diarmuid Gavin and liquid nitrogen ice cream event caterer Whipsmith to delegates.
Since then, at the event and after, event attendees and specifically chosen judges have been sharing their thoughts about the event and its award entrants using a specially designed website with feedback app built specifically for the event by Quander.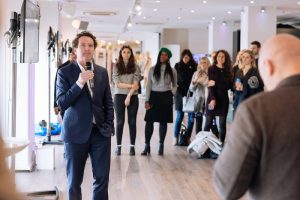 Visitor and judge Tim Fletcher, Britvic commented: "It was good to be involved, great networking opportunity. I was very interested in the developments that I saw."
Entrant and exhibitor, Ben Maltz-Jones from Rewind added: "We had a great time – everyone there was really friendly and easy to get on with, there was a great calibre of guests, and it was all run very smoothly."
The venue also impressed. Lisa Jones from entrant agency Produce really rated Oxo2, saying "a lovely bright space with fab views of London… what's not to like?"
Praise for Oxo2 as a venue was universal and guests also enjoyed the event registration service provided by Mobile Promotions with XquisitePR's Holly Manning being one of many to rate it "quick and easy."
The event success was further insured for FMBE by amazing staff from Coalition and the kind donations of screens from agency Wasserman and laptops to drive them from Dell.
All photo credit goes to agency Splento and can be found here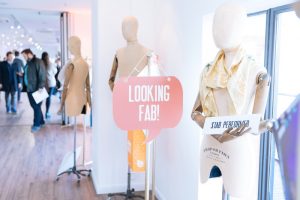 The event finished with a bit of a cliffhanger – who had won? and with votes coming in following the event the BE Connected Team have now declared that the winner's announcement will be made online on Friday 26th January. The winners will be presented with their prizes at a special event held at The Woodman, Highgate on 13th March from 6pm, an event which will also use delegate's advice to build a new category for FMBE Awards 2018.
Diary Date:  Please join the FMBE and BE Connected Team for a celebration of this year's winners and a chance influence future categories.
On 13th March 2018 At The Woodman, Highgate This event will be free to attend, but ticketed.
Make a note, registration will open next week. Event partners or sponsorship suggestions welcomed.