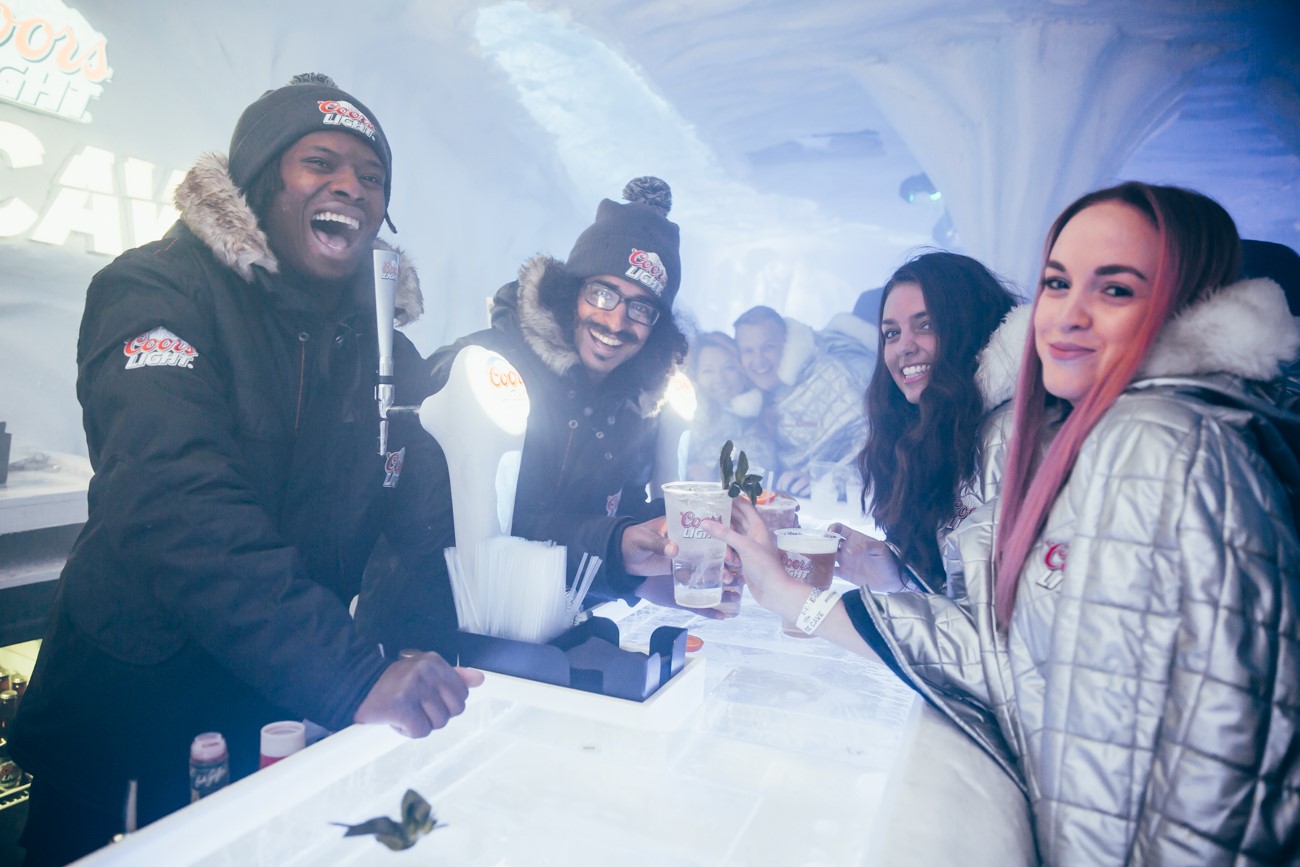 Building on its success in Sheffield, Birmingham and Dublin last year, beer brand Coors Light is  taking the Ice Cave from its TV ads to the Scottish city to coincide with other events.
The Jean Claude Van Damme-led TV campaign will be live in Glasgow from 19-28 May, transporting locals into an  Arctic raver underworld designed by  architect Zaha Hadid, where DJs spin the latest sounds in association with Mixmag and Coors Light is on tap.
Met by the brand's arctic explorers fresh from the Rocky Mountains, Ice Cave guests will be equipped with thermal capes designed to keep them warm in the freezing temperatures. Revellers can then 'chill' with a  can, pint or sample a range of branded Coors cocktails.
"The aim is to provide an unforgettable experience that captures the fun and energy of the brand by creating the best possible atmosphere to enjoy an ice cold Coors Light," explained Joanna Wharton, senior account manager at real world marketing agency Sense, which is running the campaign. "It's also a great place to discover local talent and up and coming artists.
"This time around as we're activating alongside several other exciting events, including the Electric Frog & Pressure Riverside Festival, a celebration of electronic music running from 27-28 May. We're also collaborating with the owners of Glasgow's legendary SubClub. Admission is free, but we recommend booking as tickets are going quickly. Bring your friends, grab a beer and get moving with the #IceCaveRave Gif generator to be the envy of those who stayed at home."
Other events coinciding with the Ice Cave's Glasgow residency include the Scottish Boat Race (20 May) and the Food Truck Festival (20-21 May).
"For Coors Light, it's not just about delivering refreshing, great tasting beer, but ensuring we consistently engage consumers with incredibly unique experiences that they'll never forget, and on that front, the Coors Light Ice Cave certainly delivers," said Ali Pickering, VP Global Miller Brands at Molson Coors.
The Coors Light Ice Cave will also visit Manchester later in the year.