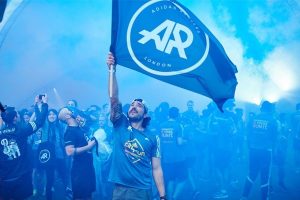 The streets of Shoreditch were closed to traffic on Sunday 8th Oct, as CSM partnered with adidas to deliver the first ever adidas City Runs event – the Shoreditch 10k.
Adidas athlete, Tom Daley, warmed-up the 5,000 runners that took part, before they set off on their 10km adventure on the closed roads of Shoreditch, passing landmarks including Hoxton Street Market and  Hoxton Square.
The sunny weather added to the race day experience as runners were cheered on by family, friends and East London locals from the starting point, all the way to the finish line.
The Active team ensured that a party atmosphere was felt in the race village as the runners crossed the finish line throughout the morning. Live DJs sets from adidas ambassador Adrienne Herbert and TV personality AJ Odudu got the party started, whilst street food stalls, street artists and Yoga sessions from The Private Yogi gave the inaugural run a truly East London festival feel. As part of their package, runners could refuel tired legs using exclusive discounts at Shoreditch's best restaurants and hangouts including Dirty Burger, Queen of Hoxton and Bounce.
The Shoreditch 10K was the first event within the adidas City Runs Series, with a minimum of four events taking place in 2018.
Lee Gibbons, senior director, sports marketing at adidas commented: "The Shoreditch 10k was the perfect event to kick of our adidas City Runs series, providing thousands of runners with an opportunity to explore the closed streets of one of London's most popular areas.
"With thousands of runners, great entertainment and a carnival atmosphere to match, Shoreditch was the perfect location to kick off this incredibly exciting running series. With some amazing race locations locked in for 2018, adidas City Runs will continue to grow in popularity and numbers."
Jon Ridgeon, executive chairman of CSM Active, said: "We are delighted that the first ever adidas City Run was a huge success and are already looking forward to next year's series. With four events taking place in unique London locations, adidas City Runs will soon be the capital's leading series of closed road running events, providing runners of all levels of ability with an unrivalled opportunity to explore London in style."