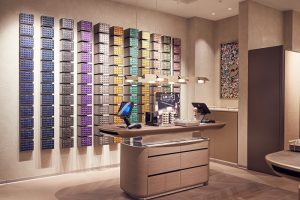 Grosvenor Europe has announced that Nespresso has launched a new concept store for the UK on Liverpool Ones Peter's Lane.
Located adjacent to Michael Kors, The White Company and Beauty Bazaar Harvey Nichols, the 1,600 sq ft Nespresso is a unique immersive boutique and only their third globally, following trials in Cannes and New York.  The main focus of the concept is to celebrate coffee moments through experiential tastings and workshops with the brand's team of experts.
The Liverpool One boutique hosts bespoke and interactive classes for customers, comparing the brand's Grand Crus and Limited Edition releases, alongside demonstrations of Nespresso machines and accessories and how to master the art of coffee making.
Nespresso has a strong emphasis on sustainability and the store, designed by an in house team, features tabletops made of used coffee grounds from the Nespresso factory in Switzerland, and wood sourced from Nespresso reforestation programs on coffee farms.  In addition, customers who are Nespresso Members can return their used capsules to be recycled.
Alison Clegg, director, Asset Management, Grosvenor Europe, which manages Liverpool One, said: "We are delighted Nespresso chose Liverpool One to debut their new boutique concept, which further adds to our unique experiential offer, re-affirming our status as a leading retail and leisure destination for international brands."
Francisco Nogueira, Nespresso UK & Ireland managing director, added: "It is a very exciting step for us to introduce our new boutique concept to the UK and Peter's Lane at Liverpool One is the perfect setting to do so.  It is a stylish, modern location at the heart of the city and the premium brands alongside us add to a wonderful shopping experience."
Nespresso joins Mercedes on Peter's Lane, following the launch of their 3,000 sq ft pop-up last month.  The news also follows the recent announcement that Lunya, the family-owned Catalunyan restaurant bar and deli, is moving to a new location on the corner of College Lane and Hanover Street.
Metis Real Estate and Cushman and Wakefield acted for Liverpool One.  CBRE represented Nespresso.