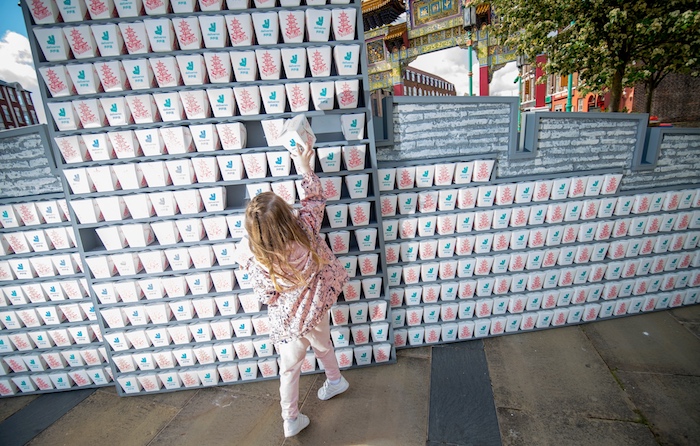 Deliveroo has launched its biggest stunt to date, a replica 'Great Wall of China' made from over 2,000 recycled takeaway boxes.
Standing taller than a double-decker bus and at over seven meters in length, Deliveroo's 'Great Wall of Chinese' experience is situated directly in front of the Chinese Arch in Liverpool, the location of Europe's first ever Chinatown.
The walkable-wall experience, was open to the public on 21st and 22nd May and contained over 100 different prizes, hidden inside the small takeaway boxes.  Other prizes could be won by taking a photo on Instagram and tagging #greatwallofchinese.
Joe Groves from Deliveroo said, "Chinese food continues to be the nation's favourite takeaway, and at Deliveroo, we have seen orders rise by 136% in the last year. Chinese takeaway is so much more than prawn crackers and sweet and sour chicken balls, it's great to see Brits being more adventurous with their Deliveroo orders and enjoying great dishes like Bubble Tea, Siu Long Bao, Prawns Dim Sum.
Given Liverpool's rich history of Chinese heritage and culture, it made perfect sense for us to create the Great Wall of Chinese for our scouse customers."
The installation appeared overnight beneath the iconic Ceremonial Arch, the largest Chinese Arch outside of China which commemorates the twinning of Shanghai and Liverpool. The snaking structure is  7m long and is based on the Jinshanling section – the most popular Great Wall hiking route.
Free food was provided by Wok & Go throughout both days.  Jeff Cook from Wok & Go commented, "As a North West based company, it's amazing to see something of this scale come to Liverpool. The city has a rich Chinese heritage and this is a pure celebration of the culture… and of course the food. The event will bring the people of Liverpool together and is amazing for families."