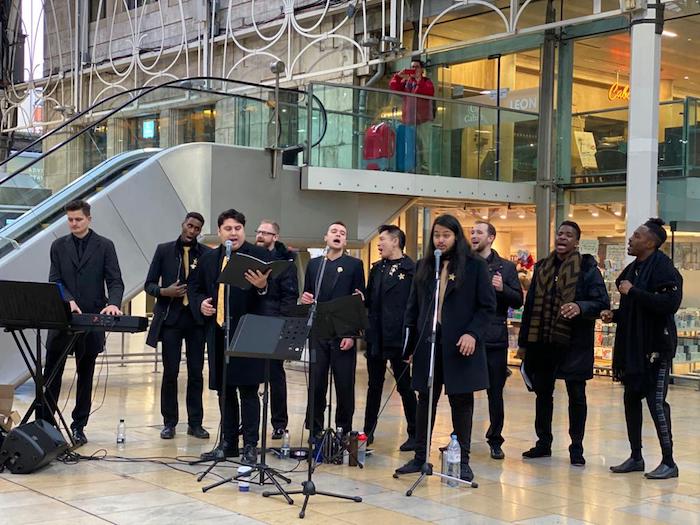 Iconic fragrance brand Dior is working with Blackjack Promotions to promote and run its Christmas gift personalisation service at Heathrow Airport.
 On Friday 13 December, the Dior Christmas Choir, featuring nine singers and a pianist, entertained travellers embarking on the Heathrow Express at London's Paddington Station, putting them firmly in the Christmas mood. Blackjack's trained brand ambassadors, wearing Dior lipstick, will hand out invitations to two of the brand's Heathrow gift initiatives.
 Those travelling to Terminals 3 and 5 will be invited to the Dior Customer Engraving Workshop, where they can get a fragrance bottle of their choice engraved with a name, date or special thought to create a unique personalised gift. Dior will also be inviting travellers to all Heathrow terminals to take up the Dior Art of Gifting offer. This involves choosing their favourite gift box, which includes an embroidered couture patch, along with a complimentary Dior Greet Card for their personal Christmas message.
 "We'll be helping Dior to spread Christmas cheer across Paddington Station, while also making Heathrow Express passengers aware of the two wonderful personalisation services the iconic brand is offering those considering giving Dior gifts," said Neda Lofti, Account Manager at Blackjack.
Commenting on the campaign, Dior's Senior Area Manager UK Travel Retail Nicolas Evrard said: "We want to help our customers give our wonderful fragrances in a unique and personal way this Christmas to make their gifts even more special. Working with Blackjack, our Christmas Choir will get Heathrow travellers in the Christmas spirit at Paddington Station, while providing some great gift inspiration through our personalisation services at the airport."
The Dior Christmas Choir will visit Paddington Station on Friday 13 December from 7:30am to 11:30am. The Dior Customer Engraving Workshop will operate at terminals 3 and 5 only, with the Dior Art of Gifting experience available at all terminals in the morning only. If you're commuting through Paddington on Friday, stop by and start your day in a festive way with Dior!