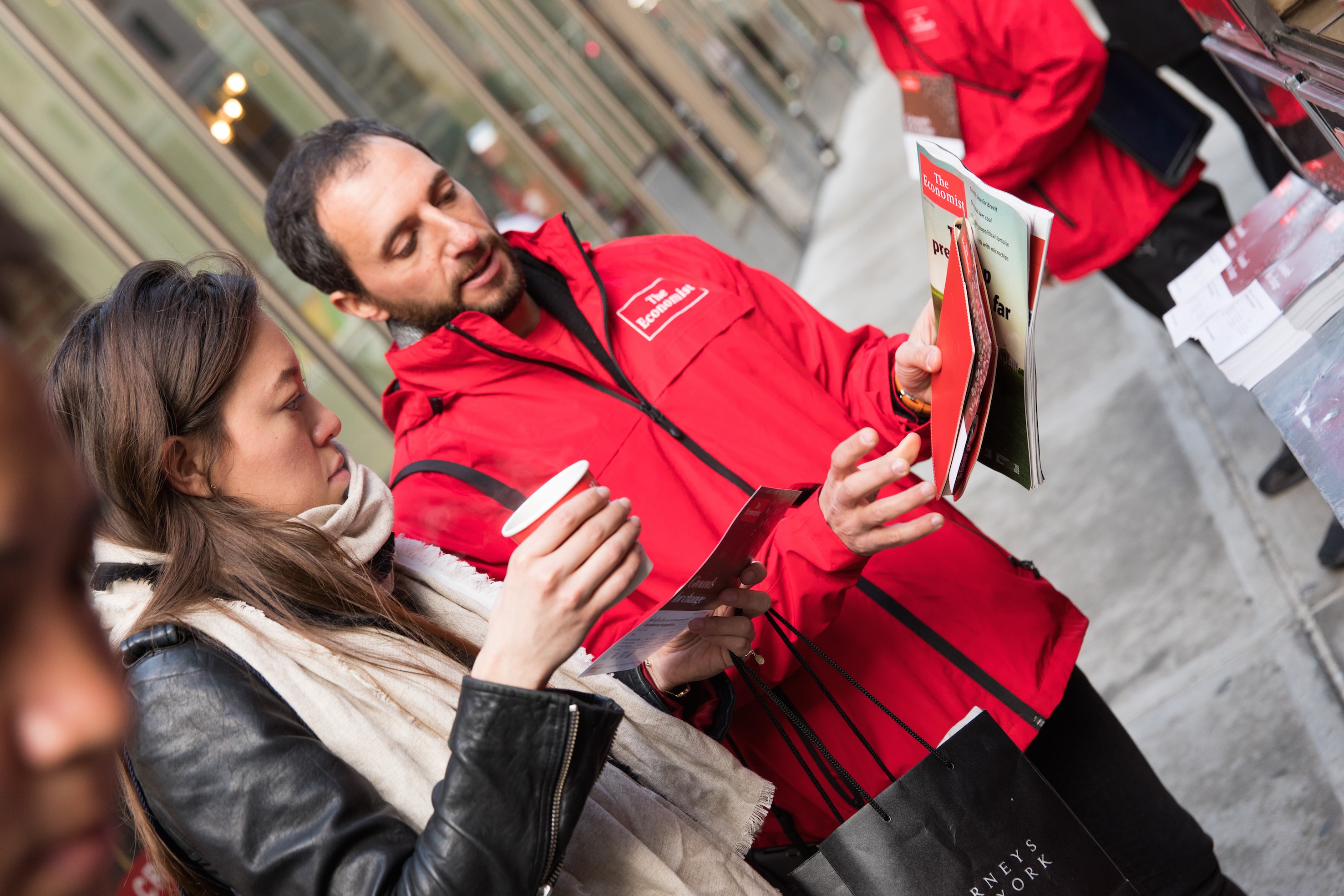 The Economist recently announced that it will expand its #feedingthefuture campaign with the launch of "Fast Forward Food" in New York City and London, and the launch of "Waste Not. Want Not" in San Francisco.
The #feedingthefuture campaign is a part of The Economist's live content marketing program that aims to attract new readers to The Economist through creative and provocative real world experiences. The program aims to educate the public on the facts surrounding their food waste, including the fact that each year on a global scale 30-50% of food produced goes to waste, $750 billion worth of food is thrown away, and in America, 35 million tons of food are discarded.
The "Fast Forward Food" program is based on a report entitled "I Can't Believe It's Not Beef" from 1843, sister publication to The Economist, which highlights the alternative protein product market. Economist-branded food trucks will be stationed at key locations around New York City and London, offering passersby samples of meat-free burgers in New York City and meat-free tacos in London. Beyond Meat will provide the Beyond Burger, which offers 20g of plant-based protein, no cholesterol and about half the saturated fat of a traditional hamburger. The "Fast Forward Food" program kicked off this June in New York City and will launch later in the month in London.
This month also marks the first time that The Economist will bring its #feedingthefuture campaign to San Francisco with the launch of the "Waste Not. Want Not" and "Insect Ice-Cream" programs. Throughout the month of June, San Franciscans will be offered free smoothies made from imperfect produce that is perfectly edible but was once destined for the trash. Also in June, an Economist-branded truck will offer ice-cream topped with edible insects, an eco-friendly source of protein that is regularly consumed in other parts of the world.
Consumers who participate in the programs will have the opportunity to subscribe to the publication at an introductory rate of 12 weeks for $12 and as a special gift they can opt to have The Economist plant a tree on their behalf.
"The #feedingthefuture program brings The Economist's mind-stretching journalism to life and challenges potential readers to stop and think about the world around them," said Marina Haydn, senior vice president Circulation and Retail Marketing. "Our content speaks to the globally curious, and the nature of our activation encourages people to step out of their comfort zone while considering the realities of a swelling global population."
The Economist collaborated with its agency partner Sense NYC (a brand experience agency specialising in real world thinking) to develop the #feedingthefuture campaign framework and execute these provocative engagement programs designed to help grow brand awareness and audience. Sense has been The Economist's agency of record for experiential marketing in the UK since 2015 and won The Economist's North American business in late 2016.
"Sense is all about bringing brands 'to life' through innovative and provocative experiences and we are pleased to work with The Economist to develop and launch these engaging activations," said Sarah Priestman, President, Sense New York. "Building on our successful campaigns in the UK, we are leveraging the campaign framework to bring live experiences that present The Economist brand to the US market in new and unexpected ways."