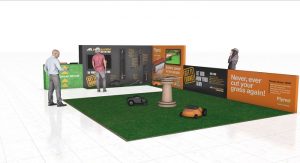 intu has partnered with Flymo and McCulloch to deliver a brand-engagement campaign at three UK shopping and leisure destinations.
The garden power tool brands are launching pop-up gardens at intu Lakeside, intu Trafford Centre and intu Metrocentre during April and May to promote their newest gardening products to the centres' high footfall of customers.
The interactive events will give intu customers the opportunity to find out about the brands' 2017 range of lawnmowers, trimmers and chainsaws within a garden set-up where they can see robotic mowers at work, handle different McCulloch products and learn more from a Flymo expert and two digital screens. There will also be the chance to win Flymo's first battery-powered robotic lawnmower in a prize draw.
Roger Binks, customer experience director of intu, said: "Our dedicated in-house team work closely with brands to deliver compelling experiences that help them to flourish within our portfolio of popular shopping and destinations, with Flymo and McCulloch the latest to take advantage of our prime locations and 400 million customer visits a year to drive this kind of brand engagement".
Gavin Burns at Flymo and McCulloch said: "intu's popular shopping centres are the perfect platform for us to raise awareness of our brands and product ranges across the country. We're looking forward to showing shoppers at intu Lakeside, intu Trafford Centre and intu Metrocentre exactly what Flymo and McCulloch are all about."
Flymo and McCulloch launched at intu Lakeside from 13th to 17th April, intu Trafford Centre from 27th April to 1st May and intu Metrocentre from 25th May to 29th May.