Field Marketing and Brand Experience's Brand Engagement week went off to a cracking start as Industry leaders from around the country assembled at The Woodman, Highgate, for an evening of food, drink and networking.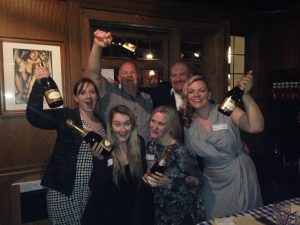 Simon Burton compèred the FMBE pub quiz which saw more than 50 attendees go head to head to demonstrate their wealth of brand knowledge. Team Quizzie Rascal's, made up of Robin Carlisle, Emma Pauw, Hannah Viney, Claire Stokes and Meredith O'Shaughnessy won first place to become the first ever 'FMBE pub quiz brand champions'.
Brand ambassadors supplied by Coalition helped with drinks orders, and ensured the smooth running of the evening and a photographer supplied by Splento was on hand to capture all the fun if the event.
The Woodman provided a vast array of wonderful food and a live jazz band for those of us who wanted to carry on until closing.
Frank Wainwright, Events Director, Brand Engagement Week, comments: "It was a fun evening and also an important one for us because we learnt a lot about how the industry can support and get involved with Brand Engagement week.  Brand engagement week and FMBE Awards are by the industry and for the industry making last night's get together a pivotal one where we could consult with clients, agencies and suppliers all together"
Frank adds: "The evening could not have been a success without Simon Burton's entertaining and erudite delivery and Danny and Rebecca from Coalition's support. We also know that Splento's photography will be of the highest standard, and I am extremely grateful for their involvement"