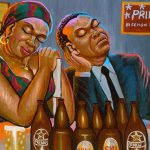 Fondation Louis Vuitton has revealed its latest exhibition, Art/Africa, le nouvel atelier, which showcases one of the largest collections of contemporary African art, from April 26 to August 28 2017.
Displayed for the first time in Paris, 'The Insiders' exhibition features pieces from the world's largest collection of contemporary African Art, owned and collected by businessman, art collector and philanthropist, Jean Pigozzi. Without the assistance of cell phones, internet, or social media, Pigozzi travelled Africa collecting contemporary art with André Magnin.
To complement 'The Insiders', the Fondation will present 'Being There', an exhibition of works by South African artists. The exhibition displays masterpieces by artists participating actively in their country's economic and social life, with the conviction that they can play the role of catalysts through their work.
The above two exhibitions are presented alongside a new hanging of the collection of Fondation Vuitton. Emphasising the collection's international outlook it includes works by African artists as well as perspectives turned towards this continent.