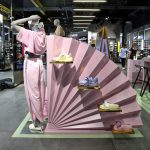 To celebrate the launch of the 'Fenty by Rihanna' SS17 Collection FormRoom worked alongside PUMA to design, produce and install a series of pop-ups across the UK and Europe, at retailers including Selfridges, Offspring, JD Sports and Lifestyle Sports.
Taking inspiration directly from the catwalk show, which Rihanna as Creative Director describes as 'Marie-Antoinette at the Gym' FormRoom took key moments, like Rihanna in head-to-toe pink, pearls and a lace Puma fan strutting down the catwalk, and worked to ensure they brought the sense of high fashion and fun to the store environments.
Inspired by 18th century French culture and their vision of Marie Antoinette inspired athleisure, FormRoom created an oversized fan within the Pop-Up spaces at two JD Sports Locations (Oxford Circus and Cologne). Made in three sections, the external shape was made out of MDF and sprayed in Fenty pink. It incorporated gold laminate shelves for showcasing the product. The internal sections were constructed out of clear acrylic, featuring a lace pattern print and 'PUMA' branding to drive customers in.
Another key element featured in all locations were the oversized campaign images; recreating key elements of the campaign image FormRoom produced the imagery in the style of gold venetian frames as a nod to the opulence of Versailles, and included lavender ladders on the sides to support the framework and showcase the campaign on both sides for a 360 degree experience in-store.
Formroom collaborated with cult brand WAH Nails to create a pop up nail bar at the Flagship JD Sports store on Oxford Circus. With a Fenty pink nail bar and bespoke WAH Nails stools, customers were invited to shop the collection and treated to  Rihanna inspired nail artwork.
FormRoom's dedicated team of designers project managers and installers worked to turn the project around in the record time of three weeks. From concept design, technical drawings and manufacture.